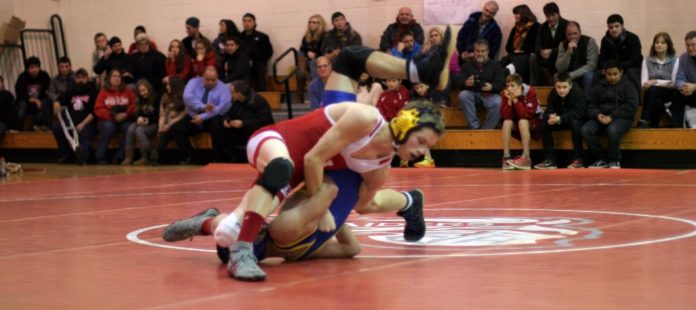 Coming into this season, the Red Hook wrestling team wasn't even ranked among the top three teams in their division: Highland sat in the one spot, Onteora was two, and Ellenville was three.
But halfway through the team's 2014 campaign, the Raiders are 5-0 against divisional opponents and rolling through teams like they haven't in a while. And Red Hook kept up their winning ways on Jan. 8, blowing visiting division opponent Ellenville out of the gym by a score of 60-21 — and only gaining a win on one forfeit in the process.
The Blue Devils won two matches on forfeit, winning at the 170 and 182lb weight classes, and managed to grab only two matches from Red Hook. Raider Jeffrey Kiluba ( 52) had the lead early in his match against David Lonstein, but couldn't hold on and dropped the bout 7-3; he was followed by Red Hook's Aiden O'Shea (160), who was pinned by Blue Devil Chris Mechliny after :55 seconds.
They were Red's only two hiccups, though. In the opening match, Red Hook's Darren Coon (195) made quick work of Ellenville's Eric Cox, pinning him in the first round and setting the tone for the rest of the night.
Red then notched five straight pins in the next five matches. Ben Zitz (220) pinned Preston Gibson; Red Hook big Travis Coon (285) pinned John Avery after 1:16 in the first period; freshman Liam O'Farrell (113) pinned Justin Rodriguez after 2:13; Taylor Benson (120) pinned Mike Doolittle after 1:56; and Matt Rauch pinned John Candalaria after :55.
Rauch, the team's lynchpin, is in the middle of a barn-burning season, having collected his 100th win at the Burnt Hills Duals on Dec. 21 with a pin over Adirondack's Rusy Pombrio after 2:55.
Aaron Calabrese (132) broke Red's pinning flow, besting Ellenville's TJ Santiago in full time, 5-2; and Kyle Torre (138) pinned Greg Avery after 3:58. He was followed by the Raider's eighth grade grappler Tristan Schiafo, who beat Willie Bruce in full time by a score of 6-5.
"We did a great job. The guys showed up tonight and wrestled well against a team that we weren't sure how they were going to be," Red Hook head coach Nick Fredericks told the Observer after the meet. "I had some guys step up, like Liam O'Farrell at 115 and Aaron Calabrese had a great match against a really tough kid."
Facebook Comments