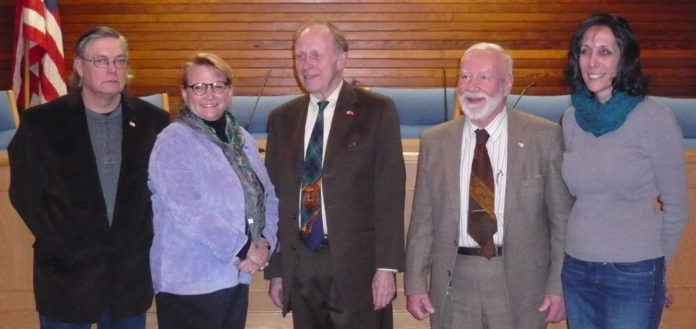 The Town of Clinton held an induction ceremony at Town Hall on Jan. 8. to swear in its newly elected officials.
Newly elected Town Supervisor Raymon Oberly opened the "auspicious occasion" at 7pm by introducing Dutchess County District Attorney William Grady, who congratulated the officials and led approximately 50 attendees, including Poughkeepsie Mayor John Tkazyik, in the Pledge of Allegiance. Pastor Thomas Hartley of the Clinton Alliance Church followed with a brief invocation.
Oberly then gave the floor to Supreme Court Justice James Brands, a Clinton resident. Brands conducted the swearing in individually, beginning with Dutchess County Legislator and Clinton resident Joel Tyner, who took his third oath for the office in as many weeks.
Brands then swore in Highway Superintendent Theron Tompkins, for a third two-year term, and Councilperson Claudia Cooley, who was appointed to the board in October 2013 and elected the following month. Oberly noted that Cooley "might be setting history" because "it very well may be … the first time that a conservative has been elected to the Town Board."
The swearing in of Town Clerk Carol-Jean Mackin for her third consecutive two-year term and Oberly for his first completed the induction portion of the ceremony.
Due to illness or work obligations, newly elected Tax Collector Coleen McGarry, incumbent Councilperson Michael Appolonia, and Town Justice Barbara Seelbach were not in attendance.
Oberly closed the proceedings by offering a few words about his plans for Clinton, noting first that he considers it "an honor to come back and try to revitalize the town."
"I run an open door office—not a closed door office—so that's the first change I made," he said. "I don't need reservations or appointments."
Oberly said he plans to "get a community together again," focusing his energy on the recreation program, senior citizens, and "active participation" on the part of all residents.
"There's going to be a lot more work to do," he said. "I look for everyone's support to help us out in moving forward."
Following the ceremony, residents enjoyed music by Sheryl and Dan Wheeler and light refreshments in the library.
Facebook Comments