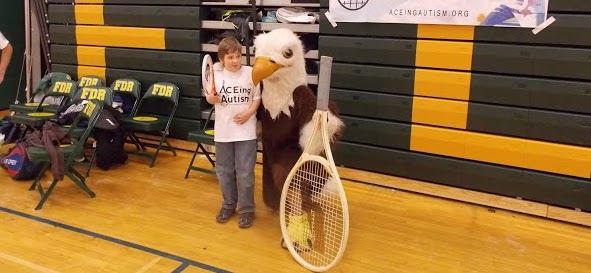 Every tennis game starts with love.
Nowhere is that more evident than at FDR High School when tennis coach Bob Mayerhofer gathers his varsity players together to teach some of Hyde Park's autistic children about their favorite sport.
"Before I retired from teaching," said Mayerhofer, "I had been involved with Special Olympics and I wanted to find some way to keep helping young people with special needs."
His wishes were granted when he learned about a program known as ACEing Autism, which was started in Boston in 2008 by tennis professional Richard Spurling and his wife, Shafali Spurling Jeste, a child neurologist. The program, which is offered free to children with autism spectrum disorders, currently spans six states, including Massachusetts, Tennessee, Texas, Florida, California and New York.
Hyde Park's program was brought to fruition by Mayerhofer along with Lynn Forcella, the mother of an autistic child and other parents of autistic children, with support from Aviva Kafka, Assistant Superintendent for Special Education in Hyde Park. The program is one of only four active in the state. The others are located in Dobbs Ferry and Ithaca, and at Riverside Park in New York City.
After lining up several of his varsity players, who volunteer their services each Sunday during the spring and summer schedule from 1 to 3 p.m., Mayerhofer worked with special ed teachers in Hyde Park, and with parents he knew when he taught math in the school district, to design the local program. It gives participants the opportunity to increase social skills, develop hand-eye coordination, follow directions and develop communication skills, all while having fun learning how to play tennis.
It has caught on so much that Mayerhofer couldn't wait until spring to keep the activities alive, so he has brought teaching indoors during winter Sunday afternoons at the FDR gymnasium.
With equipment donated by the Eastern segment of the United States Tennis Association and support provided by the Hyde Park school district, participants go through a routine that starts with practice strokes across nets, hustle drills, ladder quick steps, an obstacle course, jumping, and a can jam(placing loose tennis balls in a large bucket). Most portions of the program are designed to improve agility and athleticism for the boys and girls.
It is paying large dividends for everyone.
Christine McGraph, the mother of twin boys in the program, was ecstatic, saying, "We love it and my boys have gained so much from it, especially in their physical and social development."
She added, "My son, Mark, couldn't do more than one sit up when he started; now he does 10!"
When the program shuts down during off-season, or when Mayerhofer is unable to gain access to the gymnasium, she said her sons are very disappointed.
Jessica Lorant, another parent, added, "My son, Peter, is much more active since starting the program and he is more willing to socialize with others. The high school students who assist the children are very positive role models for him and the other children."
Among the dozen assistants helping out on Sun., Jan. 5, was one FDR graduate, Kevin Ackerman, who played for Mayerhofer while at FDR and now attends Worcester Polytechnic Institute in Massachusetts. His brother, John, and Dan Considine, who are the Presidents' tennis team captains this year, were also on hand to assist.
In addition, FDR's girls tennis team was well represented by Captain Taylor Perre, Katrina Ackerman and Heather Hein, all of whom got involved with particular trainees.
And, keeping everyone on their toes while providing some interesting sidelights, was FDR's mascot Ernie Eagle, hiding Matt Stewart under his feathers.
Facebook Comments