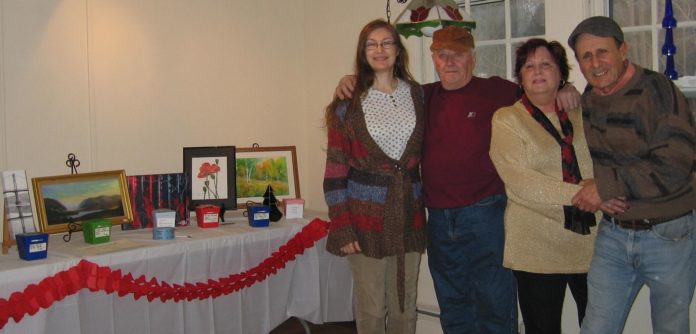 The Artists' Collective of Hyde Park, one of the most welcoming establishments in the Hudson Valley, is more than just a gallery.
In good weather, you may first meet some of the 25 local artists relaxing on the front porch of the former Oldhirst house opposite Regina Coeli Church on Route 9 or feeding the chickens in back. If a cold wind blows you inside the lovely old house, you will immediately be drawn to a wealth of art displayed throughout the rooms. Inevitably, though, you will find your way to the kitchen where you can linger and chat with some of the talented individuals who are, as their mission states: "…a group of artists that understand the importance of keeping local art alive. Art strengthens communities and mutually benefits the local economy."
Marilyn Grieco, a textile artist, is president of the group, who range in age from their 20s to their 80s and have almost as many varied talents. She explained how Art Studio Views and Art Along the Hudson helped inspire their beginning.
"I showed the Chamber of Commerce a brochure featuring towns up and down the Hudson that are bringing tourism into their art activities… except Hyde Park! I told them, 'We can do something for you, and we want to be part of the town,'" she said. "They were very supportive, and it didn't hurt that we found a wonderful landlord, John Golden. We took over the building on Sept. 4, 2012; we scrubbed, painted, plastered. On Sept. 22, we had a very successful first opening. From the beginning, we have sought to be a part of the community."
Liz St. Leger, a well-known painter, is vice president of the group. "We have a good rapport," she said. "We work well together, and we work well with the community."
Photographer Barbara Todd, who can trace her ancestry back to Jacob Stoutenburgh, a Hyde Park historical figure, added, "I think it's great the way we all play off each other. I come in and see work that is inspiring to me. I think we affect each other in very positive ways. Everybody has been very welcoming, it's been like a family since the beginning. We were also lucky that we attracted people with a lot of different skills – some real renaissance men and women."
Sculptor Carl Grieco, Marilyn's husband, recalled how long it took to make the ideas a working reality.
"Years ago, Marilyn and I were trying to get Hyde Park on the map, trying to get artists together. We tried a few times and failed; we learned, we worked hard at it, and finally the artists came together like honey bees! Marilyn and Liz, those two are the real movers. They review portfolios submitted by local artists, but you don't have to be from Hyde Park. We try to maintain a good grade of work, and we have a great mix: mosaic, oil painters, acrylic, ceramic, photographers, abstract, realists. We want to benefit the town," he said.
Kim Miller, proprietor of Surviving Sisters' Boutique, a Hyde Park neighbor to the north, was happy to donate a number of door prizes for last February's show and Valentine's Day auction entitled "Save a Heart: Buy Some Art," because she also has long experience in fundraising for the American Heart Association.
"The Collective was able to donate $500 to the AHA, and I'm told we are doing it again this year," Kim said.
Ongoing is the Collective's fundraising for the Hyde Park Food Pantry. And on Fri., Feb, 7, the Collective will hold a fund-raiser from 5 to 8pm for the House of Hope, a local residential emergency shelter. The fundraiser, entitled "Love Among the Art" will feature gourmet chocolates and wine, with door prizes, a basket raffle, silent auction and selected art discounts for the evening.
Highlights of the first full year of operation include winning first prize for the float the artists designed, built, and rode on for the town's July Fourth parade; a show of art by students from the nearby Anderson Center for Autism; the introduction of lively open mic musical evenings once a month; and the giant "Make Your Mark in Hyde Park" canvas created with individual pieces drawn by many local folks who accepted the Collective's invitation to express themselves.
Hyde Park Chamber of Commerce President Dave Stewart noted, "The Chamber was thrilled to have worked with the Artists' Collective in 2013 and support them in any way we were able. Hyde Park, being known for its vibrant history, benefited greatly, giving tourists and neighbors another great reason to visit and spend time in our town. I personally have at least five pieces of their art in my home. I look forward to working with them more in 2014."
Tony Beaudoin, who is not an artist, lives on the second floor of the building, which has made him part of the Collective family. "They're a solid building block in the community of Hyde Park," he said.
4338 Albany Post Road, Hyde Park, NY 12538
www.hydeparkartists.com, info@achpny.com
Current show, "FreshStART," runs through Feb. 9.
Winter hours: Thurs.–Sun., noon – 6pm.
Facebook Comments