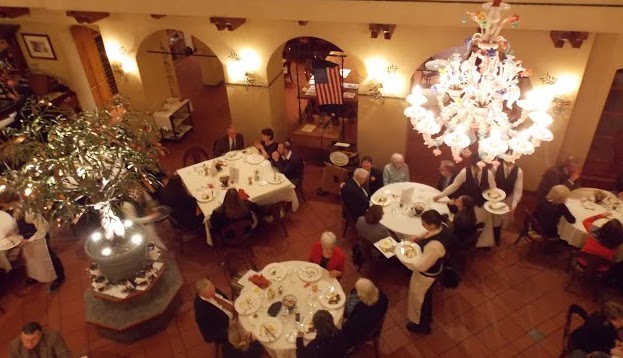 The Caterina de' Medici restaurant at the Culinary Institute of America served as the setting Jan. 8 for the annual Hyde Park Chamber of Commerce installation and appreciation dinner.
Sixty members and guests enjoyed a four-course dinner prepared by CIA students as the Chamber got its new year started by installing Dave Stewart of DS Electric as president for another year.
Stewart and fellow officers Sharon Matyas, John Coppola, Dave Meyerson and Linda Paterson were sworn into office by former Town Justice Harold Mangold.
Matyas, who represents the CIA on the Chamber Board, is first vice-president; Coppola, from Coppola's Restaurant, is second vice president; Meyerson, who runs Minuteman Press of Hyde Park, continues as treasurer, and Paterson, from TD Bank, will serve as secretary.
One new board member was selected to join seven returning members. Shawn Shaughnessy of Padgett Business Services will be replacing outgoing board member, Victoria Kampf, who did not seek another term.
Kampf was honored by Stewart as "Volunteer of the Year" in Hyde Park for her services to the board, her coordination of the Route 9G Corridor Committee and her work on beautification of the town through the Visual Environment Committee. She was presented with a plaque citing her contribution to both the Chamber and the town.
The remaining Chamber board members are Dot Chenevert of Greener Oaks Guest House, Stu Davis of S&S Appliances, Bob Delarm of Delarm's Auto Body, Frank Mazzella of Minuteman Press, Wayne Kurlander from the Hyde Park School District, Richard Wamback of Community Network, and Barbara Herman, a volunteer.
The sponsors for the dinner event were Rhinebeck Bank and Golden & Golden Builders.
The Chamber will hold its next monthly breakfast session at the Eveready Diner in Hyde Park on Thurs., Jan. 23 at 7:30am. Local business people and guests, members or non-members, are welcome to attend. The breakfast will be sponsored by Emergency One and the guest speaker will be nurse-practitioner Jill Tschinkel. The cost is $15 and reservations may be made by contacting the Chamber office at 845 229-8612.
Facebook Comments