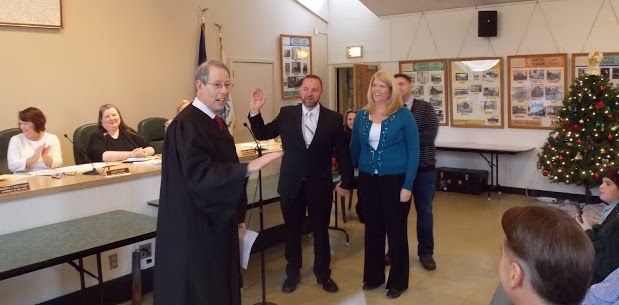 With 50 residents and family members watching, the Hyde Park Town Board was sworn in on Jan. 1 in Town Hall and got right to work.
Town Justice David Steinberg was on hand to swear-in the town board members. The incumbents, Supervisor Aileen Rohr and board members Emily Svenson and Ken Schneider, took their second-term oath of office, joined by newcomers Hannah Behrens and David Ray, who will represent the 3rd and 4th wards respectively.
In one lighter moment, Steinberg paused to swear in Schneider, saying, "You all know Ken Schneider!" To which, Schneider responded, "Right, on Row D or E,'" a reference to the fact that he was erased from a line on the election ballot because of a reporting error during the petitioning process.
Assisting Steinberg with the swearing-in process was Judge John Kennedy, who gave the oath of office to Town Clerk Donna McGrogan and newly elected Receiver of Taxes Cindy Todd.
Once the board was seated, Rohr addressed the audience with a summation of the past two-year term and her outlook for the upcoming two years.
"It has been an honor to serve our town," the supervisor said, "and we have given it our best effort to fulfill our promises to redevelop our commercial center and keep transparency and open government our priorities."
Rohr pointed out some of the significant changes along the town's major corridors, citing the new Stop & Shop, the renovated Sunoco Gas Station, Rock Ledge Plaza and the Route 9G Mobil gas station. She also praised the work the town board has been doing in grant applications.
"We are optimistic as we now see grant monies being readied to add walkways from Farm Lane to the Stop & Shop traffic light on Route 9, and we are exploring decentralized sewer options to help enhance our commercial centers," she said.
Following Rohr's remarks, the town board approved 49 resolutions, which included several appointments and re-appointments and the approval of salaries for elected officials.
Michael DuPree and Mary Donohue were re-appointed to head the Planning Board and Zoning Board, respectively, again this year. Anne Dexter was also re-appointed to a seven year term on the Planning Board. Warren Replansky will stay on as Attorney to the Town, Morris Associates' tenure as Town Engineer will continue, and Tom Carey was reappointed as Town Comptroller.
New appointees included Town Historian Carol Kohan, a retired Federal Parks employee who has been an active member of the Visual Environment and Route 9G Corridor committees, and Kerri Yamashita, who will become the Special Prosecutor for the town for traffic infractions, zoning law and code violations, dangerous dog prosecutions, and criminal violations that are not prosecuted by the District Attorney's office.
The salary approvals included a restoration of the supervisor and town board member compensation to pre-2012 levels. Board members will get $7,500, while Rohr's salary was set at $24,500 for 2014.
Highway Supervisor Walt Doyle will be the highest-paid elected official, with a salary of $70,000, while Town Clerk Donna McGrogan gets $44,000. Each of the Town Justices will receive $31,000 this year, and the salary for Receiver of Taxes Cindy Todd was set at $31,827.
The resolutions passed by the board included dates and times for board meetings, holiday schedules, and annual agreements with Dial A Ride and Employee Assistance programs.
Facebook Comments