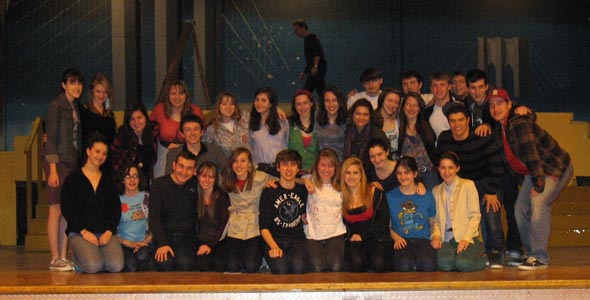 It took four months of hard work for the cast of "Grease"—students of Red Hook High School along with their adult advisers and volunteers—to perform four shows to the audience in the Red Hook High School gymnasium the last week of March. Director Deborah Temple, a long-time employee of the Red Hook Central School District, supervised a multitude of tasks for this production, which included everything from designing and building the set with the assistance of her husband, David Temple, classical guitarist and private music instructor (who served as Music Director, Lead Carpenter, and Technical Advisor), to producing the program, to selling tickets, to conducting numerous rehearsals with the cast and musicians. In all, more than 70 students were involved in the production.
When it was all over, the students were reluctant to let go of the fantastic bonding that occurred during the production. Like the song in the musical, "We Go Together," the cast found that they made friends they hope will last a lifetime. On the cast's Facebook page, plans were quickly put in place for a five-year reunion. Then the question came up, "Why wait five years?" So the cast is planning its first get-together May 20th – a lock-in (large sleep-over) at the high school after a possible pot-luck dinner to honor the seniors leaving Red Hook High School and maybe a party at a local roller rink.
Red Hook High School is a small school with high standards, with this year's graduating class numbering 186 students. According to an on-line reference, "Red Hook High School was ranked at #280 among the thousands of high schools across the country by Newsweek. Over 80 percent of its graduates go on to two and four year colleges."
Practically all the students know one another so it is easy to see why the values of the kids in "Grease," who planned to be best friends forever, still exist in schools such as Red Hook High School more than 30 years after the original staging of the musical on New York's Broadway in 1972. It won a Tony for best book (music), and moved to two successive Broadway theaters before closing its first run in 1980. Barry Bostwick created the role of Danny Zuko on Broadway. It was made into a successful movie starring John Travolta (who also was in the Broadway production in a supporting role) and Olivia Newton John in1978, played in the West End of London with a then unknown Richard Gere as Danny Zuko, and appeared back on Broadway in two revivals in 1997 and 2007. The added songs in the movie version also were composed by the original Broadway composers Jim Jacobs and Warren Casey, and Jim Jacobs also authored a "school version" without the profanity, smoking and alcohol, or teenage pregnancy references.
Once a year, Red Hook High School produces a musical, which is an extra-curricular activity. Deborah has been directing the yearly musical for the past 15 years. She said, "I work so hard at what I do because I know the impact it will have on their lives. I work four nights a week from six p.m. to nine p.m. Of course that means I'm out the door by five-thirty and never get home until ten. My students lifted me up and carried me. Their respect and love was more than I could have imagined. I prepared the girl that played Rizzo [Iana Robitaille] for her college monologue and she won a scholarship."
According to Debbie, two of the cast members, seniors Zach Martin and Caleb Mansfield, were athletes who had never performed in a musical previously. Zach Martin was cast as Danny Zuko, the greaser who steals Sandy's heart, played by junior Liz Radman, and Caleb was cast as Kenickie, the greaser and Danny's right-hand man. Another athlete, senior Mark Janeilli, was cast as Sonny LaTierri; junior Mike Rose, also an athlete, performed as Doody and senior David Marchessault played Roger.
Zach Martin described the experience in this way: "Before I even decided to do the play most of everyone in the school knew me as the kid who strictly played sports. I played soccer, some basketball, and baseball primarily. But, over the summer my friends and I decided that we wanted to experience as many new things as possible before we graduated, the play being one of them. To be in the play was an experience I'll never forget, but landing the lead role for my first play ever was quite nerve-wracking and exciting and challenging to say the least. . . . I have to admit, I did not think that I would get as attached to the people in the play . . . . I thought that I would have a fun time and when it was over, it would be over. But, after the last play and saying goodbyes to everyone, it hit me. I love this. I fell in love with the people around me and the play as a whole. The singing touched my heart and everyone's roles really became their identity even off the stage. Originally I was not even going to think about pursuing acting and singing out of high school, but after this experience I decided that I will minor in Theater at Quinnipiac University [Connecticut]. Being in the play is something that I will keep in my heart forever. Everyone in the play will have a spot in my memory and in my life forever. It is something I will never forget."
His friend, Caleb Mansfield said, "Zach and I have been best friends since third grade and part of this is that we love so many of the same things. Although we haven't done theater much in our lives we have always had a deep passion for theater. We've each been to over twenty Broadways shows, some with each other, and he's my only friend that I have with the same love of theater as me. I don't think we were confident enough in our earlier years to try to do the theater, but recently with our music together, we decided that we should leave high school with a band, and do the musical. It was well worth it and we both loved the experience. After high school I'm going to Northeastern University [Boston], and study international business, with a minor in theater and Spanish."
Says Zach, "It was amazing because then the other guys who were in the cast as Doody [Mike Rose], Roger [David Marchessault] and Sonny [Mark Janelli] tried out and we are all best friends off the stage as well, which led to the great chemistry that was seen by the audience."
Senior Mark Janelli, who plans to go to college to study engineering, possibly at Northeastern University or Boston College, said he was unsure about being in "Grease" at first but "it taught me a lot, such as having the courage to try something new. This is a trait that I will definitely bring with me to college."
Junior Mike Rose has been in several musical productions at the high school. He said, "It was awesome to play Doody, one of the lead greasers. This is my seventh big production since freshman year, and it was the most fun. This was my first lead role in a musical and it was the first time I ever had my own solo song. So it was an incredible experience. . . . As a junior, it is always sad to see seniors graduate. This was only Zach and Caleb's first show, so I don't know them as much as many of the other seniors who have done theater in the past. However, I will miss them a lot. Both of them are very friendly and kind people. It was an honor to work with them. Zach truly has an amazing talent with his voice. My character Doody has the most interaction with Roger. Roger was played by Dave [Marchessault]. Dave and I actually sang a duet together in this play. So I will miss him too. I will miss all the greasers, but the seniors I will miss the most are Jesse Lessner, Katie Torrissi, Iana Robitaille, and Francis Ricci. They all have done several plays with me throughout high school. On the last night of the show Iana Robitaille and I hugged each other and cried because it was just so sad leaving each other. She then told me that I would do a fantastic job next year and that it was now essentially my turn. Katie and Jesse have done a lot of improv with me. I have never done a show without Jesse Lessner in the cast. I can't even say how many hours we've spent together. Francis is the biggest loss to Red Hook High School. He has been our star piano player for four years. He has played piano for all the shows. He just got accepted into Princeton. Another loss is Liz Radman. She played Sandy this year. I've have known her since kindergarten and she has been in almost every show with me. Her musical theater skills are extraordinary. I could honestly see Zach, Iana, Liz, Jesse, Katie and Francis with professional singing or acting careers. It is very sad to see this show come to a close because it has been so fun. It was also great to meet so many new people and make new friends. . . ."
Junior Liz Radman, who performed the role of Sandy, said, "I cannot even begin to touch upon what a fantastic experience this show has been. I have been in five shows previously at school but this show was really special. I knew that this year was going to be the last time that Iana Robitaille and I were going to be able to perform together, and if that wasn't enough I also had also just found out that I had been accepted to be an exchange student in Belgium next year through the Rotary Club."
She added, "During this show, we realized that we were a family. I made so many new friends, and learned new things about my old friends. We were all there for each other no matter what, and the memories that we made will be cherished by all of us. Everyone has grown so much. And I am so proud to have been a part of this talented family. They made my last show so special and I am so thankful that I was able to work with each and every one of them. I could never even begin to thank Mrs. Temple and her husband and the cast and crew and amazing pit band enough. We all have bonded so much its hard to move on. Next year I am going to miss everyone so much. But just like the show says, 'We'll always be together' and we will always be there for each other no matter what."
Iana Robitaille had this to say about playing "bad girl" Rizzo and her plans after high school: "Being the 'bad girl' is always fun, but I think most people would attest to the fact that I'm nothing like Rizzo. But that's what I love about acting: I have the opportunity to explore a person so different from me, and I often find parts of myself in my characters. Rizzo isn't really bad, just rebellious because she's too proud to show how she really feels. I think this hits home with a lot of teenage girls who face insecurity in school or in relationships. This is my sixth and final consecutive Red Hook musical; I started in seventh grade in 'Fiddler on the Roof.' Every year I put my soul into the show, so naturally it's hard to transition out of it. This year is the hardest; the cast has become more connected than ever before, and I think that connection produced a truly incredible show. It is such an honor to have been given the opportunity to play a leading role in my senior show, and it has certainly been the time of my life. I won't forget my 'Grease' family when I go on to continue theater and English in college."
Another cast member of "The Pink Ladies," also is a senior: Morgan Chew as Frenchy. Morgan said, "I loved playing Frenchy because she was quirky and confused, just as I am in real life. Being involved in the play was an amazing experience, and I am glad I participated this year, because I feel I made some new, life-long friends. I plan on attending college next year in order to become a marine biologist, with a minor in art. I hope to continue with theater in the future."
Senior Ali Fraenkel has participated in other Red Hook High School musicals as a clarinetist. She said, "Like a few of the other seniors in the show, this was my first time, and sadly last, I suppose, acting in a Red Hook High School musical. Last year in the 'Guys 'N Dolls' Spring musical, I played the clarinet in the pit bad, which was a completely different and wonderful experience in itself. Since there was no clarinet part in the much smaller pit band for 'Grease' this year, I decided to audition simply because I had always wanted to be a part of the show on stage as well. Auditions flew by so quickly, and then somehow I ended up receiving the part of the crazy Miss Patty Simcox; everything was just incredible from that point on. I can say without any reservations that participating in this play was the highlight of my senior year. Looking back on being together everyday with all of the cast and crew, you just realize that it was like a long festival of love and genuine joy for what we were doing. We greeted each other with hugs everyday, and left each other doing the very same. The moments shared on stage were just as memorable –– one of my favorite moments were those in which I would just lock eye contact with a friend across stage during a dance or a song, knowing entirely that they felt the same excitement and passion as I did, too. . . . I wouldn't have rather begun to finish up my senior year of high school any other way, or with any other group of people. The fact that our musical was 'Grease', and we were able to just be high schoolers who were reflecting on their time in high school, made this show much more real for the seniors and so much more relatable. I think that even the audience could tell as we were walking off stage at the end singing, 'We'll always be together' that we truly meant what we were saying. Now that I am moving on to college and other experiences outside of high school, I'm already looking forward to our future 'Grease' reunions."
Junior Jessie Truvin played Cha-Cha and will miss the seniors in the cast. "All I can say is 'Wow!' This was Zach and Caleb's first production and they both showed talent equivalent to that of Iana and Liz and the rest of us who have been performing for years. Zach shocked everybody. And I'd say basically the same goes for Caleb who was just as perfect. He portrayed Kenicke so wonderfully and had this amazing ability to act that it really is a shame that both he and Zach hadn't done more plays before. Being able to say I worked with such incredible people on and off the stage makes this experience all the more difficult to let go of and accept that it's over. When they leave next year we only wish them the best of luck and intend to work hard and make them come back to be as proud of us and future actors as we are of them. I love this cast and crew like no other, past or future, and will hold this experience in my heart for years to come."
According to David Temple, the Red Hook School production was faithful to the 1972 Broadway musical, with a few minor changes. Debbie Temple said, "I added a reprise to 'Those Magic Changes' which no one that I know of has done. I did it because Mike [Rose] was so good and it was a scene change that entertained the audience. I also add a reprise to 'Grease Lightning' that Brooke Shields did on Broadway."
For those people who missed these four performances of the Red Hook High School's production of "Grease," a parent created a website with audio versions of the songs that can be downloaded: www.rhhsgrease.org. The website will be available for the next three months, when the site will expire. These songs will help one remember a time when a teenager's life was filled with love, hope and friendship, despite whatever adversity was ahead. This timeless story has made "Grease" an all-time favorite musical of many people everywhere, including the students of Red Hook High School who performed in the cast and crew, and plan to always be together.
Originally printed in Hudson River Sampler May 2011 issue.
Facebook Comments