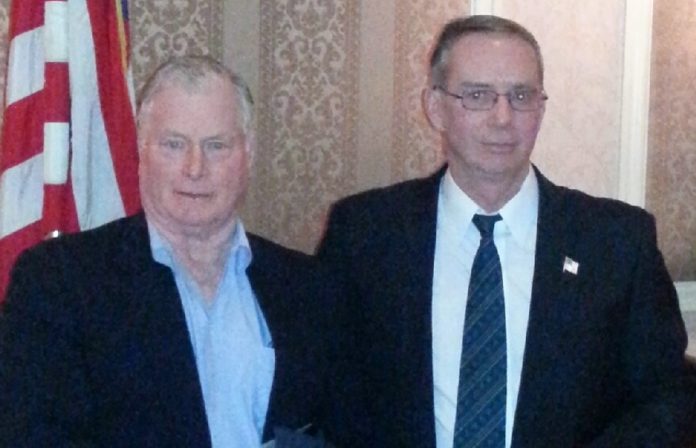 The village of Rhinebeck's outspoken mayor for the last five years, Jim Reardon, is resigning at the end of the month to take a job with the National Rifle Association.
Reardon made the announcement in a late-day news release Monday, and said he would leave effective midnight on Jan. 31.
"Since closing my business, E. A. Coon Florist, in 2009, I have been looking for a career opportunity. I made a conscious decision that I would pursue opportunities in an area that I am most passionate about, that being the outdoors, in particular as it relates to hunting and the shooting sports," he said. "I have been offered –and accepted — a position as Field Representative for Area 3 with the National Rifle Association. Area 3 is comprised of Massachusetts, Connecticut, Rhode Island, Westchester and Rockland Counties, New York City and Long Island and New Jersey."
Reardon, a Republican, was re-elected unopposed to the mayor's seat for the third time last year. Before that, he served two years on the village board of trustees. Throughout his tenure, he was never afraid to take on hot-button issues in the village — he has proposed an Events Code to control large gatherings — or speak up on matters that he felt affected its residents — last summer he ordered a crackdown on illegal sidewalk signs and other pedestrian obstructions.
Of his leadership in the village of Rhinebeck, he added in the news release, "I have enjoyed tremendously the last seven years I have spent on the Rhinebeck Village Board and am extremely proud of all we have been able to accomplish. There are so many individuals that I have worked with to try and preserve and improve the quality of life we have here in Rhinebeck, and the names are too many to list here. You all know who you are. From the bottom of my heart, I say thank you."
The mayor, who is a member of the Neighbors' Gun Club in Rhinebeck, said his new job entails working for the NRA Foundation, the nonprofit arm of the organization, and working with volunteer committees on fund-raising events.
"I am honored to be offered this opportunity," he added. "There are only around 50 of these positions in the United States and it is my privilege to serve in this capacity and give back to a sport I am very passionate about.
With village elections scheduled for March 18 it is unclear at this time what the possibilities are for a mayoral race. The Democratic Party's caucus is scheduled for Sat., Jan. 25 at 10 am in village hall. At this time, the Republican Party does not have a caucus scheduled.
Facebook Comments