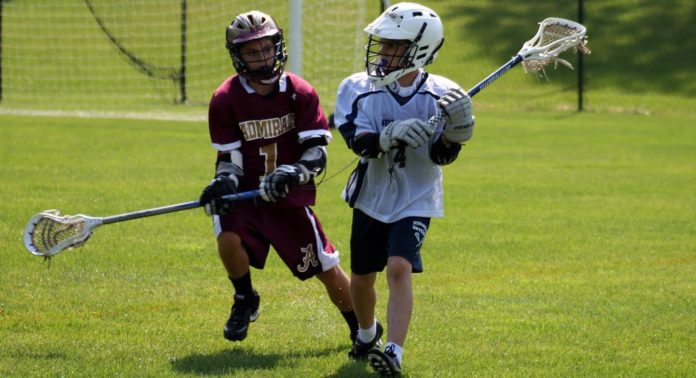 Lacrosse may well be America's fastest-growing sport: 26 new collegiate men's varsity programs and 40 new women's programs were started in the 2012-13 season, according to the NCAA, and the sport now tops college growth lists.
In the Hudson Valley alone, youth lacrosse programs are popping up left and right, with a strong upstart geared specifically for the Rhinebeck/Red Hook/Hyde Park area.
Northern Dutchess Boys Youth Lacrosse, which is in its junior year of existence, aims to train young players who can then make a difference on varsity teams, according to Gavin Curran, vice president of the club.
If local high school teams "go against kids from upstate and downstate who have been playing since they were nine, it can be hard to catch up. Breaking out, after winning Section 9 and going into the postseason, you can't get out. These teams have feeder teams," said Curran, who lives in Rhinebeck.
The club, which serves kids from ages nine to 15 and is based in Staatsburg, has its sights set on being that feeder program for local high schools.
Founded in 2011, after current board members Brad Beeler, Lou Kantaros, and Joe Feibich met at a Bard College lacrosse game and decided to pull together a youth league, Northern Dutchess Boys Youth Lacrosse began fielding two teams with 60 players; as of 2013, the league had 80 players enrolled and fielded four teams. More are expected in 2014.
Practice is mainly held at Rhinebeck High School, and the coaches are all volunteers.
Despite its name, the organization also fields a girls' program in Hyde Park, which has seen marked growth in the past two years and, as of 2013, was fielding two teams.
"It's exciting to see more and more girls show an interest in the fast-paced game of lacrosse and at an earlier age every year," said Lisa Foster, manager of the Northern Dutchess Girls Youth Lacrosse club.
To cut the cost of playing lacrosse — an expensive sport when you need helmet, stick, cleats, shoulder pads, elbow pads, and gloves, which can easily add up to more than $300 — Curran and crew have made some major efforts to make sure that youth lacrosse in Northern Dutchess is accessible to all.
The program, which includes coaching, games, practices, and jerseys, costs $175 a year; comparable regional youth programs are considerably more expensive. Westchester Warriors, a similar club team, runs $950 for summer registration.
The club also lends out second-hand equipment to players in need of a stick or a helmet, and has an internalized equipment listing program on its website, through which parents and players can swap equipment with one another.
"I even keep a bag full of sticks in case something happens and somebody needs something," said Curran, adding that the program, in the future, is interested in establishing an equipment rental program to further lower the expense of the program.
Curran said that the community response has been tremendous, with volunteers from Red Hook, Rhinebeck, Hyde Park, and even Bard College showing interest; the club, according to Curran, has even begun to attract players from Columbia County.
"We're just excited to provide an opportunity for kids to learn the sport," said Curran. "We try to make it fun, we try to teach them the basic skills. And, at the early ages, it's not about winning, it's about building stick skills and having a good time."
Registration for the boys club is underway online at northerndutchesslax.com through Feb. 15.
Registration for the girls club is set for Jan. 28 at 6pm in the Haviland Middle School cafeteria.
On a final note, Curran pointed out that the club is now a non profit. "We've gotten our 503c designation, and we hope to be able to solicit some funds from local businesses and the community," he said.
Facebook Comments