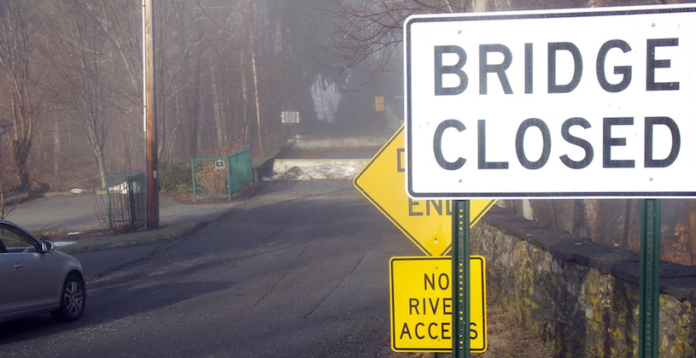 Dock Street, just off West Market Street and adjacent to the Vanderbilt Estate in Hyde Park, has been closed since early last year because the bridge passing over the Fallkill Creek is deteriorating.
Although only two properties are directly affected by the closing — the Vanderbilt estate to the north, and 2 Dock St. to the south, owned by Peter J. Andros — the roadway has been maintained by the town highway department for many years and provides several scenic views of the Hudson River and of the waterfalls formed where the creek runs into the Hudson.
At its Jan. 13 workshop meeting, the Town Board discussed plans for seeking grant funding from the federal government to conduct an engineering and design study for rehabilitation of the bridge.
The board is seeking a grant of $80,000 from the Eastern Federal Lands Access Program, which will carry with it a 20 percent match of local funding, of $16,000. The money would fund a design and engineering study on bridge renovations.
Supervisor Aileen Rohr commented to the Observer, "We are working closely with Sara Olsen, local Superintendent of the National Park Service, and we are hoping to limit the burden on local taxpayers, but we do have an obligation to work on the rehabilitation of the bridge and roadway."
The park service may be able to assist with funding and is working with the town to provide support for the renovation process. The town is also working with Congressman Chris Gibson and Senator Kirsten Gillibrand to provide support for the grant request.
The grant money would allow the town to develop a plan for repairing the bridge and re-open the roadway, but the cost of repair for a bridge this size, while nothing like the new Tappan Zee Bridge, could be very steep.
Responsibility for the bridge is actually divided among the town, which is responsible for the roadway; the federal government, because the north side wall of the bridge is on federal property; and Andros, because the south side wall is on his property.
Facebook Comments