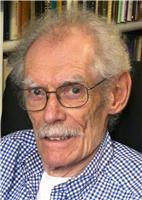 Bernard Tieger, the village of Tivoli's long-time historian, died Jan. 20 at the age of 84.
Tieger retired as Village Historian in September and was honored by the village board in November for his dedicated years of service, through four mayors, since 1999.
A child of the Depression, he was born in the Bronx, worked for the New York Central Railroad, drove a taxi to support his family and moved to Tivoli in 1967 to teach sociology at Bard College, according to his obit.
Years later, the obit noted, he began, with two colleagues, a "University Without Walls" program that eventually became the Continuing Studies Program of Bard.
In Tivoli, he served on many boards and, in 1972, spearheaded a three-day Tivoli Centennial, which became the annual Tivoli Day. He also opened a used book store, which was in business for 20 years. And as Village Historian, he published the book "Tivoli: The Making of a Community," in 2012.
In a formal statement, Tivoli Village Mayor Bryan Cranna said, "The Village of Tivoli has lost one of its most respected and dedicated residents. Bernie Tieger dedicated most of his life to educating others. Whether in the classroom, in the written word, or simply sharing a story about Tivoli's rich history with a neighbor, Bernie's commitment to ensuring that others knew of the treasures that existed within Tivoli's past was constant."
Cranna added, "Let it be said, that Bernie Tieger himself has earned a place within Tivoli's history books and will be remembered as a gentleman."
Tieger is survived by his wife of 30 years, Patricia "Trish" Laub Tieger, and five children and their families.
Facebook Comments