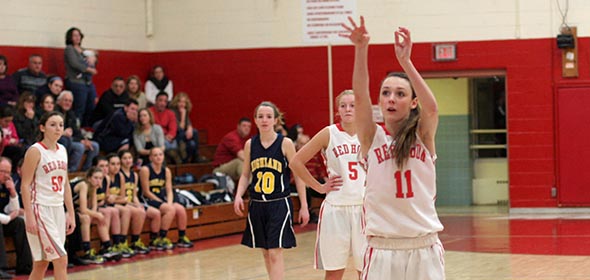 It was Senior Night when the Red Hook girls varsity basketball brought down visiting Highland on Feb. 7 with a 65-56 win.
And Red's top senior, Julianne Wilkinson, who is committed to play collegiate ball for Concordia, had another memorable game, flushing 31 points two days after she hung 35 point against Rondout Valley.
Highland was noticeably taller at the forward and center positions than Red Hook and made some serious bedlam in the paint, grabbing 13 offensive rebounds alone in the first half.
"That's what we talked about at halftime; rebounding, boxing out, and not fouling," Coach Pam White told the Observer.
But outside the rebounding game, the Lady Raiders took it to the Huskies, especially in the first quarter. It started with a fast break bucket from Julianne Wilkinson, on a steal-to-layup at 5:36, and ended on a pair of Wilkinson baskets in the final minutes. Red Hook came out of the quarter up 17-6, of which Wilkinson had 11.
"The assists came from the defense, so I couldn't have done it without them," Wilkinson told the Observer about her first quarter.
Red's opening period had one wild wrinkle: within the first two minutes, Highland's point-forward Tianna Pittman was given a technical foul for shoving Talia Stortini, who forced a jump-ball with an aggressive grip-and-rip move.
The second quarter opened with a basket from Jessica Wilkinson, putting Red Hook up 19-6; sister Julianne managed a couple of big buckets on the quarter, including a three at 4:06 to put Red up 26-14. A late Highland stand, however, sent the Lady Raiders into the locker room with only a five-point lead, 32-27.
Red Hook's mojo was deflated, but not gone. Lady Raider Ciara Burud dropped a set shot from five feet at 7:43 to open the third quarter for Red Hook, and Julianne Wilkinson managed an acrobatic basket on a drive at 5:38, squeezing her way through three defenders. Again, though, Red only managed to escape the quarter up five, 47-42.
The Raider defense, however, started humming in the fourth quarter, and behind buckets from Shannon Yearwood, Stortini, and both Julianne and Jessica Wilkinson–as well as some top notch, passing-lane defense–Red Hook managed to send Highland packing.
White was happy with her team's performance.
"I was pleasantly pleased with our composure with some of the runs that they made toward the end. There were some turnovers, some unforced passes, and I told them in the huddle 'play to win.' They were getting tentative is all. It was a big win, good win," she said.
Facebook Comments