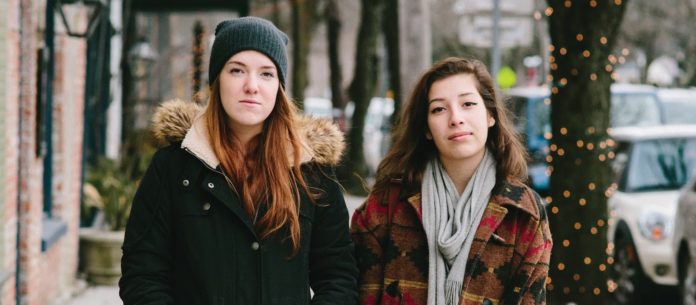 In a late-night tragedy that chilled the Bard College and Red Hook communities, two Bard students were killed in a hit-and-run on Route 9G in Tivoli Jan. 31.
A Red Hook woman with a prior drunk driving conviction was charged with felony DWI and vehicular manslaughter in the incident, in which a third student escaped serious injury.
The fatalities occurred just north of the Route 9G intersection with Broadway/West Kerley Corners Rd., the main street into Tivoli village, which is home to many Bard students.
According to the county sheriff's reports, the three students were in a group walking south along the southbound lane around 11:50pm when they were struck by a southbound vehicle, which then fled the scene.
First-year students Evelina Martin Brown, 20, of Seattle, Wash., and Sarah McCausland, 19, of Winnetka, Ill., were pronounced dead at the scene. The third student, Selena Franden, was taken to the hospital with a knee injury.
The vehicle involved in the incident was found a short time later, according to the sheriff's report, and Carol Boeck, 63, a lifelong resident of Red Hook, was arrested on the two charges. The DWI felony charge was a result of her misdemeanor conviction in 2005 for driving while impaired, according to the Sheriff's Office.
A college spokesman told local media the girls had just left a house party and were headed to the Bard Shuttle. The campus bus was reportedly due at the intersection shuttle stop at 11:50pm.
In the shock of the days that followed, the entire campus went into mourning.
Condolences to the families and the college were sent by Tivoli Mayor Bryan Cranna, County Legislator Micki Strawinski, State Senator Terry Gipson and Assemblyman Kevin Cahill. County Executive Marc Molinaro, a former Tivoli mayor, sent condolences along with a trauma team to help in the aftermath.
Counselors and support groups spent the weekend after the tragedy on campus. A memorial service was held at midnight Saturday in the college's Chapel of Holy Innocents. An overflow crowd of students lit candles and wrote memories of the victims.
The parents of both victims also arrived on campus over the weekend.
It was Bard College President Leon Botstein who consoled them with what clearly was a painful familiarity. Botstein's 7-year-old daughter, Abigail Lundquist Botstein, was killed by a car 32 years ago in Red Hook as she was crossing Route 199 to catch a school bus; her gravesite is on campus.
Botstein had sent out first word of the Route 9G tragedy "with sadness and profound regret" in a campus-wide email on Feb. 1.
He later told the Observer, "They are two wonderful young women." And he told local media, "I feel so deeply sorry for their parents."
The Red Hook woman charged with the fatalities was jailed overnight, then posted $50,000 bail Feb. 1. She appeared in Tivoli Court Feb. 4 where she surrendered her license. She was accompanied by her attorney, Michael Pollok. Village Justice Howard Clark waived the case to the Dutchess County grand jury. Senior Assistant District Attorney Edward Whitesell reportedly will be the prosecutor.
The victims, who were friends, were described as bright young women and diligent students.
Evelina Brown, known as Lina to her friends, was a studio art major who was remembered as "kind, sharp, funny."
Sarah McCausland was a linguistics and anthropology major, and, according to her parents, was also a talented singer who was teaching herself to play piano and speak Icelandic.
She had worked at The Enchanted Cafe in the heart of Red Hook, where owner Joe Moscato saw her one last time the day of the incident.
"We talked about the future… her new schedule, moving forward," he told the Observer. "I gave her the tips from the last time she worked, I gave her a cup of coffee, and she said she was going to be off to meet some friends."
Moscato also met the parents of both girls on Feb. 2, when they came separately into his cafe to see him. The two families stayed at The Red Hook Inn for almost a week as guests of owners Pat Holden and Chef Nabil, while spending time on campus and in the community.
While McCausland had worked at the cafe, Brown was a frequent customer who Moscato said he knew not by name but "by her smile."
When he told her parents that, he said, "her father smiled…exactly the same way."
The McCauslands, he said, hugged and thanked him for giving their daughter a workplace that she loved.
"I was blown away, there was no anger, they were really sad but still managed to be graceful," he added.
In the end, he said, it was clear that "both sets of parents wanted happy memories, something they could take home…and I think I was able to give them some of that."
The two girls also made a lasting impression on a local photographer in Rhinebeck two weeks before their deaths.
Thomas Smith had been looking for photo subjects Jan. 18 for a feature story in the February issue of the monthly magazine Chronogram when he spotted the two strolling down E. Market St.
"They were talking and laughing, hands in their pockets because it was frigid out that day," he said on the magazine's website. "I asked if they wanted to have their photo taken…. They looked at each other and said sure.".
Smith took only one photo.
"I remember they laughed at each other before and after it was taken, but the expression they gave in between was something from a movie, something of great confidence," he said.
Facebook Comments