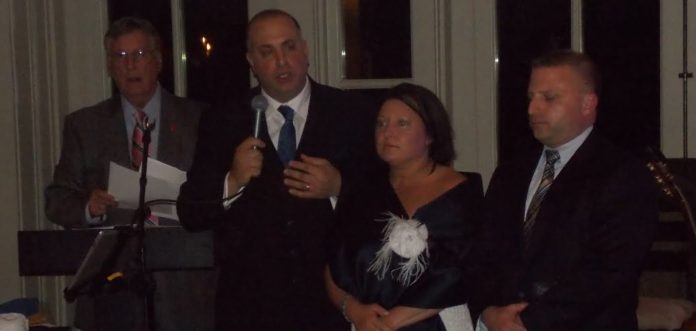 Warmth and a community sense of caring overcame the winter scene at Locust Grove, the site of Samuel B. Morse's home, last Friday when Luigi and Lisa Coppola welcomed a gathering of over 150 volunteers and friends of the Claudio Cares Foundation to the first annual Snowflake Gala.
Following the death of their 16-year-old son Claudio in a vehicle accident on Nov. 9, 2012, the Coppolas established the Claudio Cares Foundation to help perpetuate his memory.
This year's initial gala honored Dutchess County Undersheriff Kirk Imperati as Man of the Year, the Ryan McElroy Foundation, a child care cancer foundation, as Organization of the Year, and Dutchess Beer Distributors as Business of the Year. All three were lauded for lending support to the foundation's goals.
A special award of $500 was presented to the Senior Class at FDR High School after class members collected the largest amount of cans in last year's Claudio Cares can food drive.
The program was ably conducted by County Sheriff Adrian Anderson as master of ceremonies and included live and silent auctions, with proceeds being shared this year by the foundation and Regina Coeli school's computer center.
Luigi Coppola presented the plaques to the honorees, and noted, "Money raised thus far will benefit five local high schools and 10 middle schools, and our goal is to eventually provide scholarship aid to all middle and high schools in the county. We are looking for students doing good things for their communities and for teachers who inspire young people."
The foundation also includes an endowment to fund scholarships and awards and seeks to expand science, computer labs, music and art studios throughout the schools in Dutchess County. In addition, it supports local sports programs and continues to conduct an annual can food drive to benefit needy residents in Dutchess County and to inspire selflessness in young people.
Facebook Comments