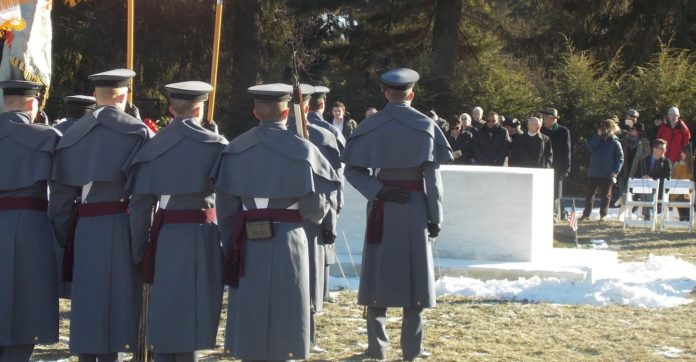 There was nothing to fear from the weather on the occasion of Franklin Delano Roosevelt's 132nd birthday commemorative on Jan. 30 at the FDR estate.
There were approximately 70 to 80 people in attendance at FDR's gravesite for the annual ceremony, on a chilly afternoon.
State Senator Terry Gipson, who currently holds the State Legislature seat once occupied by Roosevelt early in his political career, noted in his remarks to the crowd, "It is a tribute to the late president that you all came out on this cold day to continue FDR's legacy."
In his invocation, Reverend Charles Kramer, of St. James' Episcopal Church, asked for compassion for all those in attendance.
The ceremony featured the placing of a dozen wreaths by organizations that Roosevelt championed, as well as by local community leaders. Among them were David Rose of the March of Dimes, and Frank Reed, Sr. and Frank Reed, Jr. with a wreath from the "National Foundation For Infantile Paralysis," which was the precursor to the March of Dimes. Also, Michael Athanis-local commander of American Legion Post #1303, David Ferenz from the board of directors of the Roosevelt-Vanderbilt Historical Association, Lynn Bassanese, director of the Franklin D. Roosevelt Presidential Library, David Stewart from the Hyde Park Chamber of Commerce, and Hannah Behrens, Hyde Park Town Councilwoman.
The final wreath was placed by Brigadier General Timothy Trainor, dean of the academic board at the United States Military Academy at West Point. He was joined by a contingent of West Point cadets, some of whom served as a color guard while others delivered a salutary rifle volley over the gravesite.
After the traditional taps were sounded and benediction offered, the presenters and many in the attendance moved indoors to the Wallace Center to share in a birthday cake, which is also an annual tradition.
Facebook Comments