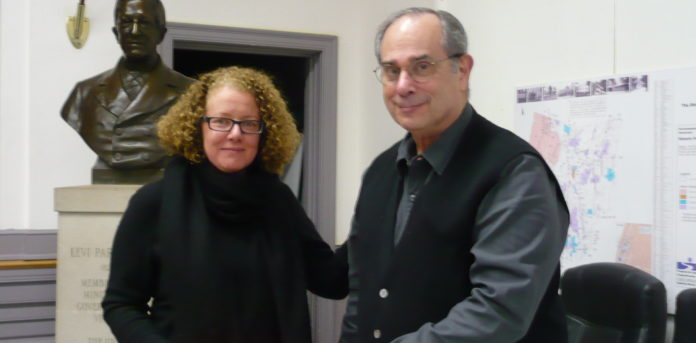 Allan Scherr, a corporate software consultant, has been chosen as the newest Rhinebeck Town Board member.
Scherr was sworn in on Jan. 28, one day after the Jan. 27 board meeting, at which Supervisor Elizabeth Spinzia announced his appointment. He will fill Spinzia's board seat, which became vacant when she won her election last November.
Scherr is a Democrat, joining three other Democrats, which leaves Councilman Bruce Washburn the only Republican on the board.
"Allan will serve for the remainder of this year and then if he chooses, if it works out for him, he'll run in a special election [for the seat] next November for the remaining year of a four-year term," Spinzia said.
Spinzia said Scherr's expertise in technology and related issues is a main reason he stood out from the pool of applicants whom the board considered.
His "stellar" career in management is another, she said.
"This board came up with a list of about 35 issues and projects that we'd like to address, and many of them have to do with restructuring departments or the tech plan, with the new website, so we believe someone with Allan's expertise will be helpful," she added.
Newly elected councilwoman Elaine Fernandez noted, "Every person who came before us was highly qualified, it wasn't an easy decision to make. But I'm thrilled, Allan, that you're coming aboard, I think you're going to do a terrific job and I think you're going to be an asset to the town. I look forward to working with you."
"I know of Allan, I think he'll do an excellent job, but I don't think [we] told him that he's responsible for Tollhouse cookies at every meeting," Washburn said, to general laughter.
Councilman Joe Gelb added, "I look forward to working with him."
Scherr, a native of Baltimore, has a PhD in computer science from the Massachusetts Institute of Technology (MIT), and worked for IBM in Poughkeepsie, and then a Boston-area tech firm before retiring and moving to Rhinebeck in 2000.
He is now "writing, teaching, and working as a consultant in the areas of software development, project management, leadership, and corporate culture," he told the Observer.
Scherr has lived in the Hudson Valley since 1965, except for seven years in Boston, and has owned property in Rhinebeck since 1981. He and his wife, Linda, have three daughters and four grandchildren.
He also serves on the board of the Northern Dutchess Symphony Orchestra and still takes piano, guitar, and trombone lessons. He also has a pilot's license and flies "a few hours" every year.
Asked what he is looking forward to in his new position, Scherr told the Observer, "I've been retired for awhile, and now this is an opportunity to make a difference, to use some of the things I've gotten, to give back."
Facebook Comments