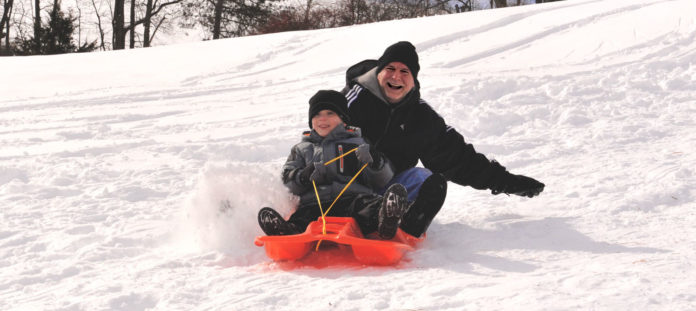 A large, spirited crowd of kids and parents turned out Feb. 8 for sledding on snow-packed Burger Hill on Route 9G in Rhinebeck.
The highlight of the big sledding day, though, was a snow sculpture contest, hosted by the Winnakee Land Trust of Rhinebeck, which owns the park. Jonah Carleton, 11, of Rhinebeck was the grand-prize winner with his sculpture of a traditional snowman.
His prizes were a large bag of chocolate goodies from Samuel's Sweet Shoppe in Rhinebeck, and a Winnakee Land Trust baseball cap.
"The snow isn't really packing very well today," Jonah said. "My original plan was to do an upside-down penguin, but this mini-snowman worked out better."
Jen Mac Kay, Director of Development of the Winnakee Land Trust, presented the grand prize, and talked about the popularity of events at Burger Hill, which the trust owns.
"At Burger Buggy Day in November, we had hay rides to the top of the hill. That was hugely popular," she said, noting that Burger Hill is a great place for children and families all year round.
Facebook Comments