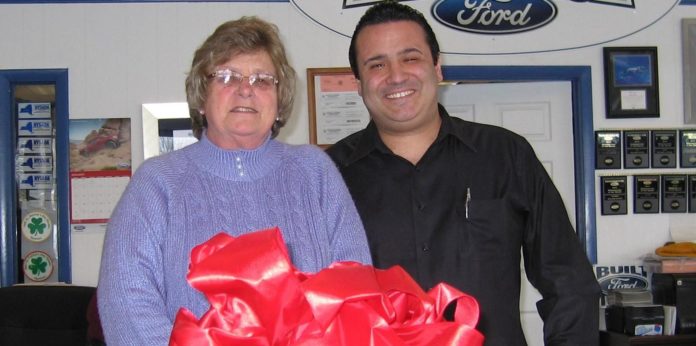 When Shirley Rabbett was a waitress at a local bowling alley 50 years ago, little did she know that a friendly suggestion to look into a job opening at a car dealership would lead to an enjoyable five-decade career and ultimately the responsibilities of controller at Rhinebeck Ford, which she fondly calls "… a family organization."
"I started at Central Auto Sales in Red Hook, which was owned by the Tremper family, who were wonderful people," Shirley recalled. "In 1970, Central closed and moved to T&T Auto Sales in Rhinebeck. Both businesses combined in 1974 and became T&T Ford in this location. The dealership became Rhinebeck Ford in October of 1998. My first job basically was helping the owner do bids on town trucks, billing cars, and answering phones. It has so grown tremendously that this inventory has more than quadrupled. Now we are trying to get the town to allow us to expand the building space and the lot."
Shirley started selling vehicles at the suggestion of owner Stan Tremper. "I always really loved the challenge of selling. My motto has always been, Honesty is the Best Policy," she said, adding, "I love what I'm doing right now, though — my forte is figures."
Former customers come in from time to time and say, "Is Shirley still here?" When they do, she said, she picks a salesman to help them and then assists in setting up everything for the sale.
"There's only one thing I have left to do here, and that is change an oil filter in a car," she admitted. "When I've done that, I've done it all."
Born in Sharon, Conn., Shirley has lived in the Red Hook/Rhinebeck area all her life. Her family — three grown children, six grandchildren, and one great-grandchild — also live close by.
And so she gets the best of both worlds.
"The current owners are absolutely wonderful. They allow me to take off and go to basketball games, baseball games, or if I need to be available for the little one," she said. "I can honestly say it's a pleasure to come to work in the morning. We are all so close here, if something happens to one, all the rest are going to chip in and help."
Shirley is also proud of her part in starting the Rhinebeck Ford benefits for local children with cancer. For the last 14 years, the lot has been cleared of all 250 to 300 vehicles and the community invited to partake in a day of food, music, games, and raffles in order to raise funds for local families in need of assistance at a critical time
"There's no selling on that day whatsoever," Shirley said firmly. "The first one raised over $50,000 for three children with cancer. We do whatever we can for whatever, whoever in the area needs our help if we can provide it. Right now we are donating a 55-inch TV to the State Police who are having a benefit for multiple sclerosis. We also, for about the last five years, have given out annual scholarships to students of Red Hook, Rhinebeck, and Arlington: one to a boy and one to a girl who have high grades but could use some financial assistance."
Lann Rubin II, the general manager of Rhinebeck Ford for seven years, noted, "How many businesses even have someone who has been with them for 50 years, never mind a car dealership?"
He also said, "When you talk about family, some people throw that word around like it's no big deal, but Shirley not only knows everybody, she knows the names of their children. It is very impressive. Shirley has a big impact on how our dealership runs. I think it's a big part of what gives personality to a store."
How much more mileage does Shirley have for Rhinebeck Ford?
"Oh, well, I don't know," she answered. "My intent is to slow down."
Shirley wears a gold watch, which she got from Rhinebeck Ford in recognition of the beginning of her 50th year, which will be March 3.
Asked if a party is planned, Shirley replied, "I truly am a very low-key person. I'll say, 'Thanks for the 50 years.' My favorite color is yellow, so there will be yellow balloons in here in March, I'll guarantee you that."
Facebook Comments