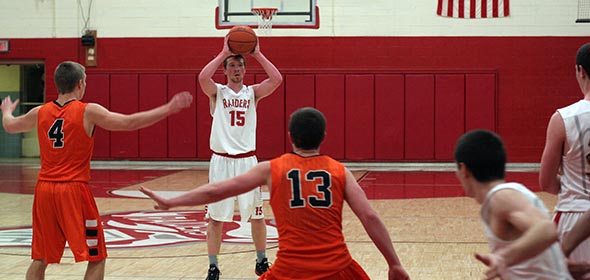 In a classic, knock-down, drag-out showdown, Red Hook met Marlboro Feb. 12 in a fight for the Section 9 Class B division basketball lead.
The game, played to a packed house at the Jack Lewis Memorial Gymnasium, ended with a 56-50 Iron Dukes win.
Red Hook won the tip, and Paddy Parr scored on a turnaround at 7:43. It was Parr's first two points of 10 on the night; the Red Hook guard also put up 8 assists on the night. He was followed by Dennis Hare at 7:21 on a layup. Hare ended the night leading all scorers in the game with 15 points.
The Raiders faced a matchup problem on the block, especially against Iron Dukes' Damian Lowe and Tyler Banks, who put the squeeze on Red's rebounding game and proved an issue for their starting front court, headed by 6'3" Luke White. Lowe had 14 points on the evening and opened up the lane for Marlboro's guards.
Marlboro and Red Hook played scrappy ball in the first quarter and Red Hook came out of the first period up by one point, but in the second quarter the Red offense stopped jiving. Marlboro jumped out to an 18-16 lead in the fifth minute on a three pointer and managed a six-point lead before the Raiders clawed back on a late-period scoring campaign. Red Hook hit the lockers up 28-26 on a pair of made Tim Terry free throws.
In the third quarter, Hare got an early bucket to put Red Hook up 30-26. But Marlboro stormed back, cut through Red Hook's trap defense and came out of the quarter up 42-39. The fourth quarter was no better for Red, and the Iron Dukes outscored the Raiders by eight points over the course of the second half.
"I think a difference in the fourth quarter was that they were able to put together a string of defensive stops followed by scores, which seemed to elevate their confidence," Red Hook Coach Matt Hayes told the Observer. "They were 5-6 at the line in the 4th, and we were only 1-5. Marlboro also hit seven threes in the game, and have been shooting the ball exceptionally well in their last five games."
With the loss, Red Hook is tied Marlboro for the Class B division lead. They begin Mid-Hudson Athletic League playoffs on Monday, Feb. 17, at SUNY Ulster at 5pm.
Facebook Comments