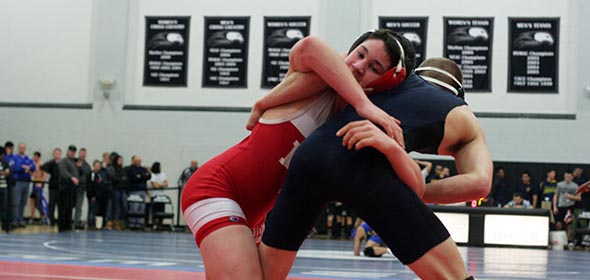 Red Hook got two state tournament contenders out of a de facto home meet for the Section 9, Division 2 wrestling championships on Feb. 16, grappling at Bard College's Stevenson Gymnasium in front of a thunderous Raider-minded audience.
The marquee matches for Red at the meet were those featuring Raider one-seeds Matt Rauch, at 126 lbs, and Ben Zitz, at 285.
After winning the semis with a quick pin, Rauch pinned opponent Jesus Castellanos in 1:35 to punch his card for the state tournament.
"With all my friends here, it's been great. They've been supportive all season. And just having it at home – having all of the home crowd, a lot of the parents who can't come to all the matches that are a half hour away are here. It's just great to have the home atmosphere," said Rauch.
It was a different story for Zitz, who came up just short after winning his way into the championship bout. He fell 3-2 in four overtime periods to Andrew Friedel of Onteora, courtesy of a controversial call in the last match of the day.
"During the last overtime period, he needed to hold the wrestler down and keep him from escaping. According to the referee, Ben locked hands around the waist of the other wrestler while his hands and feet were still touching the mat," Red Hook head coach Nick Fredericks told the Observer. "By rule, this is illegal and Onteora is awarded a point, and the match was over. I did receive clarification from the referee but still would like to see the video. Either way, there's nothing we can do now, and I wish Ben had pulled it off to go to States for his senior year."
Freshman grappler Taylor Benson pinned opponent Andrew Parete of Rondout at 2:43 to win the 113 lb. weight class. Benson will join Rauch at the state tournament at the Times Union Center in Albany on Feb. 28-March 1.
One other Red wrestler almost put together something special. Eighth grader Tristan Schiafo — the ninth seed at 138 and a first-year wrestler — won his way into the championship, before losing by decision to Joshua Santiago of Rondout, 13-1.
"It's awesome," said Schiafo of the tournament. "I've never wrestled in a place like this with so many people watching. I was really nervous going into the first match – like people said they could tell in the beginning that I had the jitters."
Red Hook's Kyle Torre, wrestling at 132, lost to Andrew Suleiman of Highland, 5-1 in the finals; Stefan Chichkov, wrestling at 220, came in third after pinning Eric Cox of Ellenville in the consolation round. Wade Harris of Red Hook won third in the 99 lb. weight class, pinning Shane Gullickson of New Paltz. Both Red Hook's Jeffrey Kiluba, 145, and Travis Coon, 285, lost in the consolation round.
Coon, in the semifinals, lost to teammate Zitz via pin at 2:54.
As the nine and eight seeds in their divisions, respectively, both Schiafo and Kiluba had to defeat their classes' No. 1 seeds to continue.
"The effort our team put forth was amazing. Having only four returning place finishers from last year, I am very proud of the way we wrestled," said Fredericks.
Facebook Comments