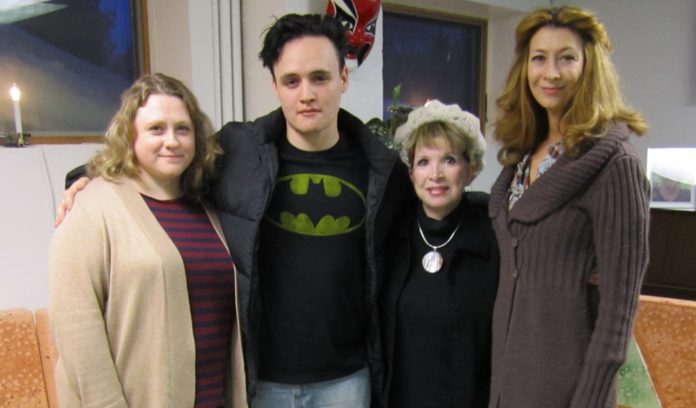 Marlon Brando first shouted "Stella!" on Dec. 3, 1947, in the Broadway opening of Tennessee William's "A Streetcar Named Desire." The play left the audience in stunned silence at the final curtain before they gave it a 30-minute ovation.
Now, nearly 70 years later, director Diana di Grandi brings this award-winning, controversial play to The CENTER for Performing Arts at Rhinebeck starting Friday.
"A Streetcar Named Desire" is one of the best-known scripts by one of America's best-known playwrights, who won a Pulitzer Prize for the work.The 1951 film version, also starring Brando, received 12 Oscar nominations, and earned acting nods for three of its four leads.
di Grandi is known as the director of many plays produced by Up In One Productions at the Rhinebeck theatre. She cast the current show with Deborah Coconis as Blanche DuBois, Joshuah Patriarco as Stanley Kowalski and Emily DePew as Stella Kowalski.
"Good theater makes you think," di Grandi told the Observer on why she chose to produce and direct "Streetcar."
"And because I love Tennessee Williams," she added. "I think that he is the premier American playwright. I like his plays. I love the roles that he writes for women and men. And, it is very real. He gets to the heart of the matter. I think that the people can connect to the emotions whether or not they can identify with the characters."
The director spoke about how Williams–in this play, as in others–captures the essence of a changing world, especially the South. The play centers on Blanche duBois, an aging Southern belle who goes to live with her sister and extremely earthy brother-in-law.
"This whole family situation is a microcosm of what is going on at that period of time. Everything is changing– the whole south is changing. [Blanche] has difficulty with it, and society to an extent has difficulty with it. It goes much broader than these characters," di Grandi said.
This cast knows the characters they portray intimately.
Patriarco speaks of Stanley Kowalski as if he were a friend. "I think he is fascinating. I think he is a study in contradictions. I have seen productions where he can be done completely as this brutal unsympathetic mass of just trying to dominate and control. But I think that there is lot tenderness in him, a lot of love and a lot of conflict. I think, in his own way, he is almost as much contradiction as Blanche is," Patriarco said.
"Stella is the only grounded one!" DePew said. "Her life since leaving the home of a southern belle has significantly changed. Now she is torn between two worlds. Between her family and the way she grew up."
She added, "It is very important to represent the struggle she has between these two worlds. Stanley is constantly picking on Blanche, tormenting her, abusing her and Stella has to choose between her sister and the love [of her] life."
And Coconis said Blanche sees her sister's life as foreign. "She was brought up the way I was, but she does not uphold the etiquette and manners of our bringing-up. She is able to leave all that–the tradition passed from grandmother to mother–behind and to live her own life," Coconis said.
"[Blanche] sees that as descending into darkness. It is a huge disappointment–like lower class. It is a disillusion of upbringing," she added.
di Grandi said the play is more complex. "I think the play also shows you how these illusions evolved — where they came from," she said.
When the audience leaves the theatre, she added, "I want it to be about the journey. I want people to take that ride; and to feel everything, to feel all the emotions, to see human nature."
– – – – –
"A Streetcar Named Desire," presented by special arrangement with Dramatists Play Services.
Performances run Feb 21 through March 2: Fri & Sat, 8pm; Sun., 3pm
Tickets: $22 /$20/$15 with a current student i.d.
845-876-3080 or www.centerforperformingarts.org
The CENTER for Performing Arts, 661 Route 308, Rhinebeck, NY
Facebook Comments