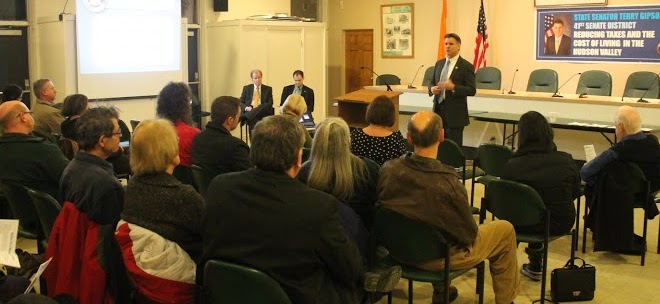 A supportive but questioning audience almost filled Hyde Park Town Hall for a tax relief forum hosted by State Senator Terry Gipson.
"The goal here is really to try to find a way to make it more affordable to live here and more affordable to do business in New York State," Gipson said as he opened the forum Feb. 6.
He told the crowd of approximately 55 people that he sees "a lot of talk but not a lot of action" in Albany.
He acknowledged that his colleagues in the Senate have taken some actions to reduce the tax burden in recent years, such as relieving local communities of some of the mandated funding for Medicaid. However, in other areas, not enough is being done, he said.
"[The state] comes up with ideas, but rather than taking the time to figure how to fit them into the state budget, they ask local governments to fit it into their budgets," Gipson said.
He outlined several initiatives he is supporting or proposing that would stop the state from creating what he called unfunded mandates and he also focused on the need to change the way public education is funded. Among the initiatives, he said, are a proposal to eliminate property tax and replace it with a personal income tax and a constitutional amendment that would forbid the state from leveling more unfunded mandates on communities.
Brian Keeler, Gipson's chief of staff, gave the audience an historical perspective. Since the 1970s, he said, the state has gone through a long period of cutting a lot of tax brackets. "But we went overboard to … almost a flat tax where whether you made $20,000 or $20 billion, you were still paying the same percentage of income tax," he said.
At the same time, he added, the state has been passing along the revenue shortfalls to local governments.
"What the Senator is talking about is reintroducing some of the responsibilities the state used to have. The state went from paying 63 percent for education to today it pays 40 percent…," he noted, adding, "[It has] multiple ways of raising money. The counties and schools have property and sales taxes and that is it."
The first resident to speak pointed out what others later echoed: to successfully accomplish the changes, school boards must "build budgets with restraint." If funding comes from the state, she said, the state could create more controls on expenses.
Gipson agreed, and suggested that consolidating school districts might be part of the answer, along with other checks and balances on spending that were included in his proposals.
Town Supervisor Aileen Rohr said she was concerned about the tax reform proposal that would base residents' taxes on personal income.
For one thing, she noted, it would eliminate commercial properties as a source of tax revenue.
"Of your total tax bill, about 79 percent is schools, with the remainder divided between county, town, fire and special districts. So, the majority of taxes are school-related and that is why it is so critical," she said.
"Town taxes are 6 percent of the tax bill for Hyde Park" she added. "We are concerned about maintaining a highly functional infrastructure and keeping a balance between low taxes and providing special services for our people. That is why we are looking to the state for help."
Gipson said only one of his three proposals to aid education relies on a personal income tax; the other two would still tax commercial properties.
Some in the audience pointed to tax-exempt properties as part of the problem.
It is "a huge problem," said James Doxsey, a fire commissioner for Fairview Fire District and a former county legislator. "You have businesses that are in the business to make money but still do not pay taxes whatsoever."
"Senate Bill 99 in Albany, sponsored by Senator [Betty] Little, is specifically for tax-exempt properties to step up to the plate," he noted. "When you have all the people around you paying for services that you are receiving like fire, police, ambulance, it is not fair."
Other issues addressed by the audience included concerns that property values in local school districts will go down as a result of the state's plan to run new high voltage power lines through parts of Dutchess County.
Some speakers suggested that the methods the state uses to calculate the pensions of some state workers should also be changed.
At the end of the forum, Gipson promised that his office would get back to those residents who wanted additional information on some of the issues.
Facebook Comments