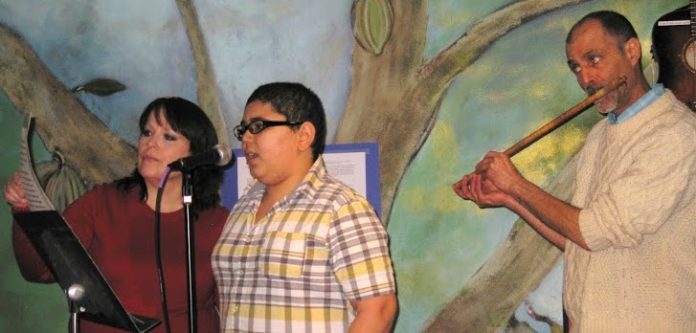 A group of young students from the local Devereux Foundation made a strong impression on a packed audience at Taste Budd's Café in Red Hook recently when they shared the results of a challenging writing workshop, along with their own artwork that accompanied their stories.
David Levy, Devereux's music teacher, opened the Jan. 8 evening event with lively chanting in a drumming circle. When five of the 20 students there quickly accepted his invitation to join him on stage, Levy instructed them: "This is in the spirit of the Native American Pueblo. The chant is a song of welcome and also a calling to the drum. When we hold our mallets up to the sky, we greet the sky; when we hit the drum, we greet the earth."
Next came the readings of the finished stories, like "Danny's Adventures in China" and "The Story of the Fearsome Chef," each of which was accompanied by Levy playing the flute.
Although some of the pre-teen and early-teen authors were too shy to read their work at the microphone, others embraced the opportunity, with the assistance of Robin Stoutenburgh, the literacy teacher at Devereux, and Dara Lurie, a well-known local author, workshop leader, and manuscript coach.
The evening was called "1 Night of Art, Music & the Spoken Word," and the students' artwork was displayed on the walls of the cafe and then sold in an auction, with a raffle held for one photograph and one drawing done by Devereux teachers.
The evolution of the student workshop that led to the show was explained by Lurie. She told the audience, "Through the last six months, I came to Devereux twice a week to work with students and worked with Robin to sit down to serious business of imagining and thinking and shaping our stories and then the editing, fixing, changing, revising. I am so thrilled to say that this is a tough group of creative souls. Robin and I have had this wonderful partnership with them."
How did the students feel about the workshop and show?
Jeffrey B.: "Writing makes you feel happy and relaxed. I feel like I can do other things, like getting a job."
Danny R.: "I was scared and nervous at first, but when done, I felt proud."
Nicholas M.: "I would like to write more stories because writing is my life and I enjoy making new stories."
Mya R.: "I felt shy and proud when it was done."
Dan Budd, the owner of Taste Budd's who is known for welcoming the community to what has over the years become a well-known artistic "salon," noted, "Offering an opportunity for the artists of Devereux to express themselves in our cafe was an easy choice. The magic that this art show graced upon Taste Budd's was unexpected and heartwarming. We are honored to join Devereux in nurturing and celebrating human potential and can't wait for next year's show!"
What also became clear from the event was perhaps a better understanding of Devereux, a nonprofit national behavioral health organization, which has had a local campus on Route 9 in Upper Red Hook since 1991.
Originally founded in Philadelphia in 1912 by Helena Devereux, a schoolteacher committed to finding alternative resources for children with special needs (such as autism, ADHD, and psychiatric disorders), Devereux is a national network that provides services in 11 states for people with emotional, developmental and educational disabilities.
Principal John Lopez explained, "We are a residential school program with 141 students, but this is essentially their last resort for education. They will stay with us their entire educational careers, depending on how early they come to us — our youngest now is 7 — up to age 21. In addition to our residential program in Red Hook, some live with their families or with foster homes and just come for the school day. We are preparing them to be as independent in the community as possible when they leave. We volunteer, do work training skills, and plan events such as the writing workshop event at Taste Budd's."
Dan Goldman, a professional photographer and artist who is the art teacher at Devereux, is very much responsible for enabling his students to share their work with the public.
"I have been an artist my whole life," he said. "I just started my fifth year at Devereux. I just want to teach, share my knowledge. I have two daughters, and I am a child myself. I feel like this was just meant to be: art and the spoken word, it doesn't get better than that. We are not anywhere near where we need to be with these kids. I am on a mission to bring art students and their gifts to the community and have the community share their gifts with us. These kids are just incredible."
Goldman added, "Mr. Lopez had a great deal of faith in me as an art teacher. Before I got there, everything in the building interior was gray, but with his support, the students at Devereux and I were able to transform the hallways to red/pink/blue/orange."
Facebook Comments