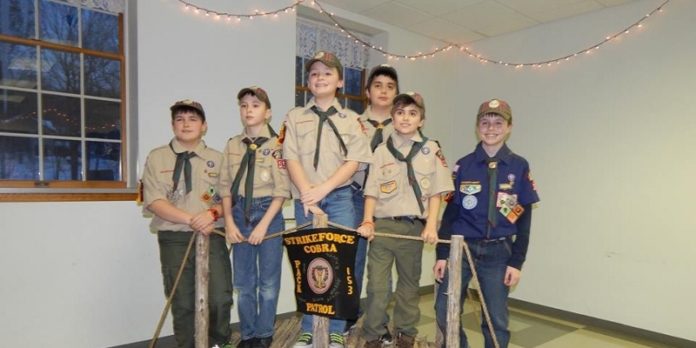 Hyde Park Cub Scout Pack 153 held its annual "Blue & Gold Dinner and Awards Ceremony" Feb. 16 to honor 35 boys at the West Clinton Fire Station #1 on Hollow Road.
Among those honored were six "Webelo Scouts" who had reached the highest rank possible in Cub Scouts, and were presented their Arrow-of-Light award. This award represents their completion of Cub Scouts, and their move into Boy Scouts Troop 80. The scouts are: Logan Cooper, Adam Butler, Mason Sala, Josh Guarino, Christian Faber, and Glenn Boucher.
According to a Boy Scouts news release, Pack 153's remaining Cub Scouts were also honored for achieving their rank, which means they are also all one step closer to their own Arrow of Light Award.
They are:
Tigers: Michael Cowles, Daniel Noakes, Tommy Iorio, and Gavyn Parise
Wolf: Andrew Butler, Jack Goldstein, Justin Osterhoudt, and Bradley Tuttle
Bears: Nickolas Deacon, James Iorio, Jake Mkhail, Sam Patton, Bill Fenwick, Shawn McGill, Jacob Mulkins, and Tyler Sotanski
Webelos I: Wade Bishop, Amari Malcolm, Ashton Weiss, Dominic Lucarini, and Ryan Shaw
In addition, the Cub Scout pack also honored its outgoing leaders last month with a surprise get-together at the North Park Elementary School. Because their children have now moved on to Boy Scouts, these leaders have decided to step down: Donations Chair Dawn Sala, Committee Member Ross Cooper, Committee Chair Wendy Cooper, Awards Chair Suzi Faber, and Pack 153 Cubmaster Kevin Faber.
"These 'fabulous five' leaders are going to be sorely missed, as we have some very big shoes to fill," said new Cubmaster Steve Tuttle in the news release.
For more information about how to join Cub Scout Pack 153, check the website at: pack153hydepark.ScoutLander.com
Facebook Comments