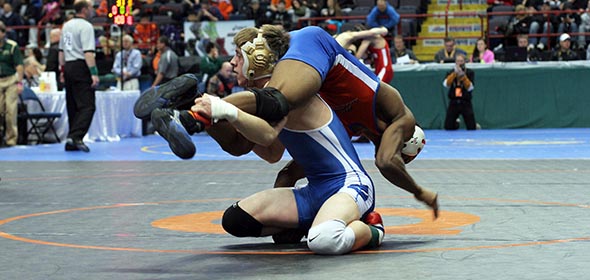 It was a mixed-bag kind of competition for Red Hook's wrestlers Taylor Benson and Matt Rauch, who grappled in the New York State Public High School Athletic Association tournament held at Albany's Times Union Center on Feb. 28 and March 1.
Benson, winner of the Section 9 wrestling championship in the 113 weight class, fell in the preliminary round to Anthony Recco of Lyndonville by pin at 1:54.
"Taylor went against a four seed. Definitely a really good wrestler. He'll most likely place here – Taylor just got beat. I think he's still learning, he's still young. I hope he'll wrestle back, get a few more matches to close the year. It's the experience that counts," Red Hook head coach Nick Fredericks told the Observer.
Benson did get another couple of matches after falling to Recco. He won in the opening round of wrestlebacks — a tournament format that allows those who lose to wrestlers who win another round gain entry to a consolation bracket — pinning Edgemont's Tyler Aslanian at 4:21, but fell to Ryan O'Rourke of Adirondack via pin at 1:54 in the next round.
Rauch bested his first-round opponent, Rashid Powell of Eagle Academy. Rauch was in charge of the match from the get-go, and iced things with a takedown at the end of the second period to go up 5-0; he ended the match with a 7-0 win.
"Matt came out aggressive. He was ready right from the beginning. He took the guy from the PSAL team right down, which is huge up here. He kept scoring – it was a huge match, he deserved it. He's worked hard for us, he's gotten ready mentally, and I expect good things from him," Fredericks said.
Things weren't so easy in the quarterfinals for Rauch, though. Against one-seed Kellen Devlin of Amherst, he only scored two points, and fell with more than 20 seconds left in the third period 17-2, victim of the mercy rule which dictates that a 15 point leads to a loss. Devlin went on to win the state championship on March 3.
Rauch still had a chance to grab third in the high-powered 126 division, but fell in wrestleback to Tristin DiVincenzo of Port Jefferson, who finished fifth in the tournament.
Neither Benson nor Rauch placed in the top six finishers in their respective weight classes.
Facebook Comments