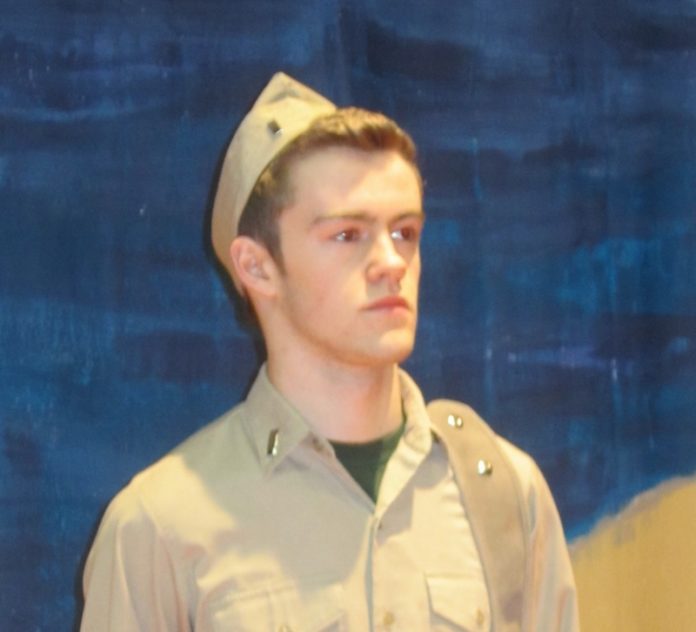 In 1949, the Rodgers and Hammerstein musical "South Pacific" opened on Broadway where it ran for nearly 2,000 performances, won 10 Tony awards and remains the only musical to capture Tonys in all four acting categories.
In a new century, several generations later, young descendants of those who lived in the WWII era will be presenting "South Pacific" at FDR High School for three glorious performances this coming weekend.
The high school's President's Players talked about their spring production, which is directed by Carl Defoe, and how it taught them to appreciate their family members' roles in World War II.
Cast members, interviewed by the Observer, said they learned from the attitudes expressed in the musical, which were far different than today.
The creators of "South Pacific" were committed to dialogue, lyrics and music that reflected the social attitudes of the United States in the 1940s. One of the many well-known songs, "You've Got To Be Taught," suggests that individuals are taught prejudice, they are not born with them.
The on-stage love stories between two couples bring this poignant song to life. And in the FDR production, dramatically sung by Greg O'Keefe, this song establishes one of the main themes for the play.
While "South Pacific" has several significant and serious messages, it is also very funny and entertaining. Featured in the production are: Zach Foster (Emile de Becque); Cassidy Drop (Nellie Forbush); O'Keefe (Lt. Cable); Duane Olson (Luther Billis); and Kendra Bellevue (Bloody Mary). Olson and Bellevue are outstanding character actors, and in their roles, they expertly provide much of the show's humor.
Some of the best songs in the score go to O'Keefe ("Younger than Springtime," "You've Got To Be Taught"). He successfully establishes himself as the play's young hero and love interest. Drop and Foster, cast as the central characters of the show, deliver believable and moving performances. Foster's "Some Enchanted Evening" will be well remembered by the audience; and Drop's numbers are enjoyable, often very funny and always well delivered. And the entire cast delivers outstanding choreography.
This production includes many individuals: the FDR student orchestra, the cast and crew of the play, two students from Haviland Middle School and the support of faculty, staff and family members. Defoe, the director, speaks with pride of the "family-concept" upon which he bases the work he did in creating this production.
The musical play is an American art form, and this production of "South Pacific" has an historical message that can be educational for students while still being highly entertaining. Just as important, the community can be proud of the work of their school and their children.
'South Pacific'
FDR High School Auditorium
South Cross Road, Staatsburg
Fri. March 14, 7pm; Sat. March 15, 1pm and 7pm
Tickets: Adults $12; seniors and students $6; under 5 free with adult admission
Tickets available at the door or in advance at Julian's Deli on Rt. 9G or Molloy's Pharmacy on Rt. 9.
Facebook Comments