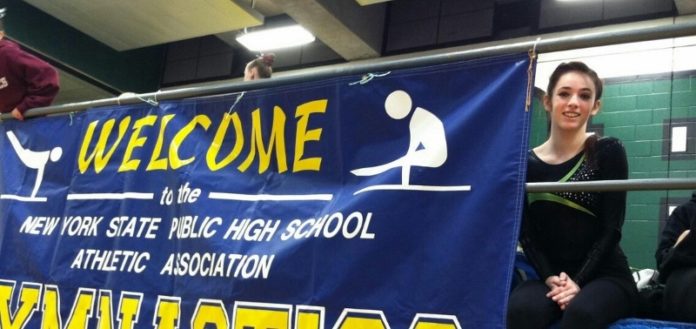 After nursing an injury through much of the season, FDR High School 10th grader Amanda Mittermaier beat the odds and qualified for the New York State Gymnastics Championships.
Mittermaier placed 30th in the vault, with a score of 7.5, and 41st in the uneven bars, with a score of 6.25, in the meet at Brockport March 1.
At the start of the 2013-2014 season, Mittermaier suffered a stress fracture in her ankle while warming up for a floor routine. It was the third time she had suffered the injury.
Mittermaier found herself in a walking boot for four weeks. After the boot was removed, she attended physical therapy sessions for another three weeks.
Yet, despite being unable to contribute on the mat, Mittermaier helped her team in other ways, serving as a somewhat assistant coach, helping her teammates improve, according to coach Yonnie Coughlin.
"She really supported her teammates. She knows so much about the sport and it was really nice of her to give advice to her teammates while she couldn't compete herself," Coughlin told the Observer.
Mittermaier knew that she wanted to compete again this season so she completed her rehabilitation and on Jan. 31 she returned to the mat, competing on the beam. As she got back into her routine, she went back to competing in the vault and uneven bars in the remaining meets.
"It was fairly tough coming back from the injury, mostly because I hadn't done much at all the entire season," Mittermaier, told the Observer. "Also, the fear of being injured again prevents me from coming back so quickly."
Despite posting impressive scores in the few meets she participated in, Mittermaier still might not have been able to compete in the state meet were it not for several outside factors that worked in her favor. Because several meets got postponed because of snow, there were three meets in one of the first weeks that Mittermaier returned.
She qualified to compete at the state championships in the uneven bars. Then a gymnast from New Paltz High School, who had scored better than Mittermaier in the vault at the Section 9 meet, wa unable to attend the state meet because of other commitments, which gave Mittermaier the opening to compete in that event as well.
While she admits she wished she had performed better, Mittermaier said she was happy she got to compete at the state level.
"It was very exciting," she said. "I hope to return next year and…improve upon my performance from this time."
"We are very proud of her and what she has done this season," Coughlin said. "Amanda is a great representative of our team and FDR as a whole."
Update: Due to a reporting error, our original story published March 12 indicated Mittermaier qualified for both events after two gymnasts withdrew from competition. In fact, she had already qualified for the uneven bars and one gymnast's withdrawal allowed her to compete in the vault event as well.
Facebook Comments