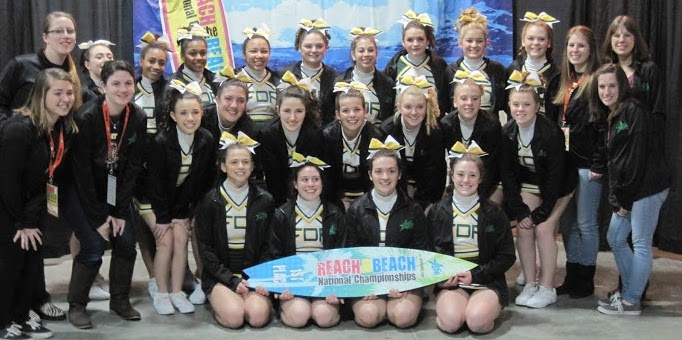 The FDR High School varsity cheerleading team traveled to the Reach the Beach National Cheerleading Competition in Ocean City, Md., Feb. 22 and returned home with a first place victory at the event.
The Presidents, competing in the Medium Intermediate Division, have now taken first place in the division for three consecutive years. The win topped off a successful year for the team, because they also finished in first place at the John Jay High School Invitational Jan. 25.
Competing against schools from all over the country, the FDR cheerleaders have created a standard of performance over the last few years that has made their three straight years of victory all the more impressive.
"It's extremely stressful to stay up to those standards," head coach Fran White told the Observer. "When we first won (in 2012), we scored the highest score out of every team there. I am very proud of this group for keeping up with those standards."
Jackie Squire, Emily Williams, Jasmine Noonan, and Kayla McDermott serve as the captains of the FDR squad, which has a total of 20 cheerleaders on its roster, including Sabrina Arico, Gianna Beckmann, Brianna Bolettieri, Rebecca Egerton, Rebecca Elderkin, Shauna Francis, Mariana Helfrich, Alize Jimenez, Danielle Lake, Kyra Mittelstaedt, Sarafina Pavlak, Ciarra Reilly, Natalia Richards, Destiny Rosado, Natascha Ruesseler, and Caitlin Whalen.
The team takes a lot of pride in its success, and White said the memories that they have from the championship trip will last the rest of their lives.
"This is like their World Series," she noted. "They have two and a half minutes; you only get one shot. I think they take pride in how they compete, and they appreciate the opportunity they were given to go on this trip."
In addition, the nine seniors on the team have been coached by White since they were freshmen, which makes this season a special one for her.
"It was great to win this year with those nine seniors," she said.
Facebook Comments