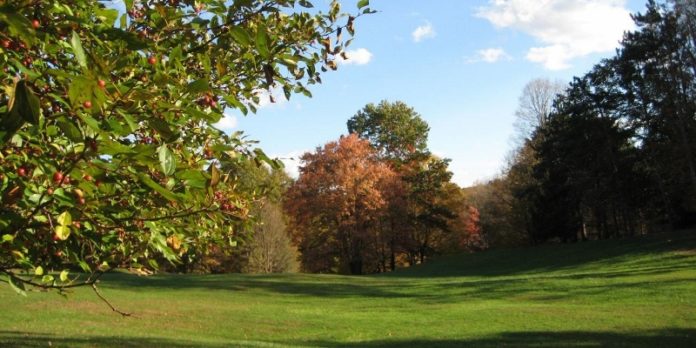 The name of a local tribe of Native Americans, "winnakee," is best translated as "good land." The dedicated members of the Winnakee Land Trust have spent the last 25 years ensuring that a balance of land protection and land development will enable local communities to have all the resources they need for generations to come.
Yet, despite those 25 years, most people are unaware of how much and what exactly the organization does.
Before Winnakee was formed, the Hudson Shorelands Task Force, a nonprofit group of individuals, became involved in protecting the scenic beauty along the Hudson River from large developments proposed for the Rhinebeck area. One of those individuals, Sally Mazzarella, along with a half dozen volunteers, achieved this in part by obtaining non-profit status and accepting donated conservation easements: legal agreements between the land trust and a landowner (either an individual or a corporation) to restrict development. Winnakee Land Trust, of which Mazzarella is founder and president, was formed from this group.
Each easement is unique: some provide recreational opportunities (Burger Hill Park in Rhinebeck and the Winnakee Nature Preserve in Hyde Park); others, such as agricultural easements, protect farming as a business, still allowing for necessary additions such as buildings and fencing.
Lucy Hayden, the executive director of Winnakee, explained how the trust goes about protecting approximately 3,000 acres in Dutchess County.
"We are stewards of the properties we protect, meaning we have a close ongoing relationship with the landowner, and we pay at least one in-person visit annually," she said. "For us, it's important to have an ongoing communication with the landowners: 'Oh, you want to take those trees out over there? Don't forget to send us a letter and get permission.'"
Each easement has extensive documentation mapping everything on the property, like wetlands, in order to compare what's happening now with what was there when the easement was established. "All we had 25 years ago was a compass, a camera, and, hopefully, a map; it was much more laborious," Hayden recalled. "Now with GPS and all the layers available, you can really get correct information. We received a grant from the Land Trust Alliance to bring the technology into every easement."
In 2011, the Alliance, a national umbrella organization that oversees all the land trusts, gave Winnakee its accreditation. "We had to meet a lot of criteria to get that," Hayden said. "The Alliance inspected everything — our easements, our policies, our board, our bylaws — and we made the grade!"
Hayden reported that the trust now has an active board of 23 volunteers, including finance people, planners, and biologists. "Each actually plays a role in how Winnakee works. A lot of land trusts have boards that may have deep pockets but don't get involved," she said.
The income to get all the work done comes from their 400-500 members, a stewardship fund, grants, and two major annual fundraisers: the historic barn-and-farm tour and a gala. In January, a new designation, the Open Field Society, was introduced to invite the public to join another level of supporters who could receive special benefits.
This year's special 25th anniversary gala – which Hayden said will be "…all party, not speech-making!" – will take place July 12 at Locusts on Hudson, the historic riverfront estate in Staatsburg owned by Andre Balazs.
Throughout the year, Winnakee also organizes a number of events that are both fun and educational, such as "No Child Left Inside Day," to be held this year on April 17 and co-sponsored by the local Ralph T. Waterman Bird Club at Thompson-Mazzarella Park in Rhinebeck. There will also be a ribbon-cutting for the Educational Arboretum in the Hyde Park Nature Preserve on May 9, Burger Hill's Buggy Day in November, and the opening of the new Hyde Park River Trail (to be announced).
Hayden explained the newest project. "We are a member of the Hyde Park Trails Partnership, which connects the public with historic and recreational trails and works in conjunction with the National Parks Service and the town to establish trail easements across private land. From Norrie Point going south through the Poughkeepsie Yacht Club and the Anderson School, we will hopefully be connecting the FDR site with Rhinebeck on a riverfront trail, so that's really exciting."
Reflecting on the recent past, Mazzarella said, "Over the past five years, Winnakee has grown to become a strong, professional organization that is unique in the range of benefits it provides to northern Dutchess communities, from trails work to establishing parks to protecting farmland and providing environmental education. I've loved working with the board and staff to develop this wonderful land trust into a nationally accredited organization with a high level of skill."
Winnakee also works with local realtors who can play a big part in convincing potential purchasers of the benefits (both financial and beautification) of establishing easements.
"Sometimes realtors are selling land that has an easement on it already," said Hayden, "and it's important for them to know how to pitch that, to explain how that affects the value of the property. In some circumstances, the value of the land could increase even though you're getting a tax deduction."
Winnakee Land Trust
P.O. Box 810; 187 East Market Street, Suite 101 Rhinebeck
www.winnakeeland.org info@winnakeeland.org
845-876-4213
Facebook Comments