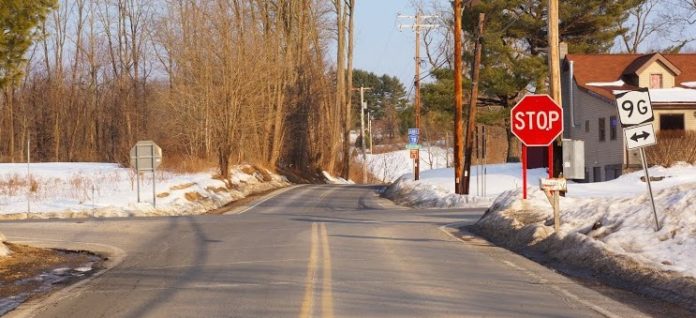 In apparent response to increased demands by local and county officials, the state will install a four-way flashing overhead light at the Route 9G intersection with Tivoli's entrance road.
Word of the safety improvement, which comes after three recent fatalities at the intersection, was made in an announcement March 21 from state Department of Transportation Commissioner Joan McDonald.
The overhead beacon will flash yellow for traffic approaching the intersection both ways on Route 9G and will flash red for drivers approaching from either the Broadway (Tivoli) side or the West Kerley Corners Road (County Rt. 78) side.
A news release from the state DOT said the beacon should be installed and operational by Memorial Day, with construction beginning this spring. The work is being doing in collaboration with Dutchess County.
The state is already planning to widen the shoulders along that stretch of Route 9G starting in the spring.
The urgency for such long-sought safety improvements along the troubled state highway was heightened with the hit-and-run deaths Jan. 31 of two Bard College students, and the death March 3 of a local father of three in a two-car crash. Both incidents happened at or near the intersection.
"Safety is the No. 1 priority at the Department of Transportation, and this new flashing beacon will provide a very visible warning to motorists that they need to proceed with caution," Commissioner McDonald said in the news release. "This signal will help enhance safety at the intersection for all roadway users."
Look for the full story in our March 26 print issue!
Facebook Comments