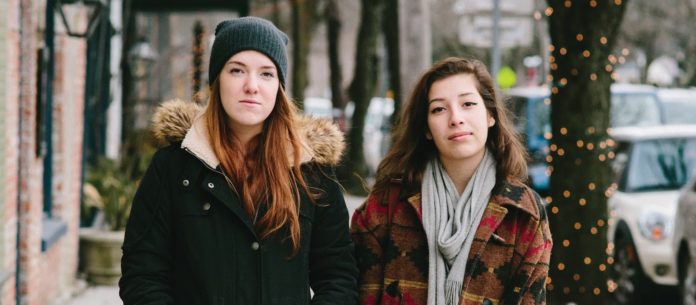 The Bard College community gathered with two still-grieving families March 19 for a private memorial service for the two students killed in a Jan. 31 hit-and-run on Route 9G.
The parents and siblings of Sarah McCausland, 19, of Winnetka, Ill., and Evelina (Lina) Martin Brown, 20, of Seattle, listened closely, even smiling at times, as the girls' friends recalled them with sorrow, laughter, and music, according to one attendee.
The morning service, held in the college's Chapel of the Holy Innocents with a standing-room only crowd, was opened by Chaplain Bruce Chilton, with a program that offered musical tributes, moving words and a short speech by College President Leon Botstein.
"The best part, really, was close friends of Lina and Sarah, four of them, had prepared letters and poems in a portion of the program called Reflections. They had everyone laughing and crying with their sweet words," said Enchanted Cafe owner Joe Moscato, who had fond memories of Sarah McCausland when she worked for him at the Red Hook coffee shop.
The speakers included Lina Brown's roommate, Claire Worsey, and Sarah McCausland's roommate, Anna Fox.
"They literally had the parents laughing with the candid letters of the times they spent with the girls," Moscato noted.
The service was followed by a private reception at the campus home of Bard President Leon Botstein.
The two first-year students were walking south on Route 9G at 11pm when they were struck and killed by a southbound car near the Tivoli intersection. A third student was injured. Red Hook resident Carol Boeck, 63, was later arrested and charged with felony DWI, because of a previous conviction, as well as vehicular manslaughter. She has pleaded not guilty and the case now awaits a grand jury determination.
According to local media reports, the Dutchess County District Attorney's Office said last week that lab results showed Boeck had a blood alcohol level of 0.23, nearly three times the legal limit.
Assistant District Attorney Kevin Irwin told the Observer he could not talk about the case before the grand jury convenes, which he said was scheduled for "the beginning of April."
Irwin said that, depending on what the grand jury hears, the charges could lead to jail time of 15 years or more.
"We're going to look at everything…We always want to hold someone accountable to the crime. However the facts fit, that's how we'll charge her," he said.
Meanwhile, Bard College, citing safety issues, has announced that the Campus Shuttle will end pickups and dropoffs at the Tivoli-Route 9G intersection effective March 28 because "this is not an official or safe shuttle stop location," a notice on the Bard Free Press website reported.
Facebook Comments