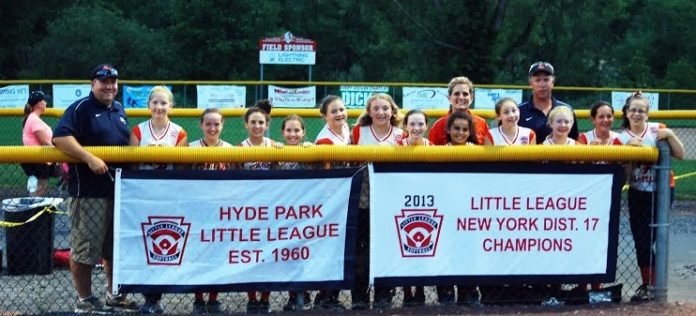 Now that the interminable winter of 2014 has ended, the greatest rite of spring is about to start as Little League softball and baseball gear up.
Local teams have a habit of sending Little Leaguers deep into the All-Star season, which starts after the regular Little League season ends, around the beginning of June.
And none were better than Hyde Park's 12-and-under softball All-Stars last season. They made it into regional play, and did so in style: they went undefeated in their four-game regular season, and captured the District 17 championship from Poughkeepsie in a 9-0 rout.
The team's winning attitude isn't a new development, though, according to Hyde Park's current coach and former manager Mike Sheedy.
"There's five girls who have been with the team who haven't lost a district game in four years," Sheedy told the Observer. "They work really hard. We've developed three pitchers, and they make us really strong."
Those pitchers are Amanda Owens, Madchen Knauss, and Elizabeth Gross. "All of them have been pitching for years. They're all great on defense. Amanda has a lot of different pitches – she doesn't have as much speed as Knauss and Gross; Knauss was our lead pitcher this year. She actually pitched a no-hitter in the championship game," said Sheedy. "Owens is coming around really well."
Owens and Knauss, along with Kara Sucato, Brianna Palermo, and Gayle Sheedy, the coach's daughter, are the five team members who didn't lose a regular season All-Star game over the course of four years.
In addition, the pitching staff didn't allow a run until Hyde Park entered regional play in 2013. On their way to the championship, the team beat Beekman, Wappingers, and Poughkeepsie, and went 4-2 in Rockland, where sectional playoffs were held.
While a lot of the girls from the winning 2013 team will be moving up to the 13-14 age division, some of the better players are expected to depart to travel and All-Star teams, the kind of teams that promise trips to faraway states, scouting potential, and increased level of competition.
What that will do to the mostly unstoppable, very-gelled Hyde Park girls softball program is unclear for next season, whose Opening Day is April 11.
"I'm not sure who is going to be with us this year, as a lot more of the girls are joining travel teams," said Sheedy.
Such is the fate of most down-home sports programs these days. But Sheedy is still proud of his team.
"I think it's something special, especially for those core girls, never losing a District 17 game. I mean, they practiced really hard. We had practice almost every day in the summer. It was a lot of commitment," Sheedy said of his team.
Facebook Comments