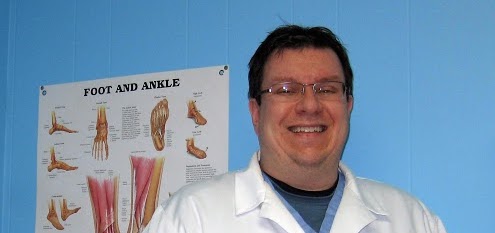 "Everybody calls me 'Dr. Z'," affable Dr. John Zboinski explains upon introduction at his Rhinebeck office on Montgomery Street.
Zboinski (pronounced za-boyn-skee) is certified in foot surgery by the American Board of Podiatric Surgery and is celebrating the third anniversary of his practice here, as well as his first two months at Rhinebeck Foot Care's Hopewell Junction office.
He transitioned his work after 15 years in New York City to the Hudson Valley, where he had been doing part-time work in Hopewell Junction, a place he used to call home.
"I grew up in Hopewell and live in Stormville now," Dr. Z explained. "I know the Hudson Valley — I grew up going to the Fair!"
Dr. Z and his wife, Ruth, a Desert Storm veteran, have two children, daughter Olivia, 6, and son Maximo, 3, who will be attending the same schools their dad did.
After earning his degree at Temple University School of Podiatric Medicine in Philadelphia, Dr. Z completed a residency in podiatric orthopedics at the FDR VA hospital in Montrose, N. Y.. He was chief of podiatric surgery at Lower Manhattan Hospital (which was then called New York Downtown Hospital and is now part of the NewYork-Presbyterian Healthcare System). There, he was responsible for inpatient consultation and emergency room coverage, as well as teaching residents. He is a member of both the American and New York State Podiatric Medical Associations and a Fellow at the American College of Foot and Ankle Surgeons. Currently, he has privileges at Northern Dutchess Hospital, Vassar Brothers Hospital, and the Fishkill Ambulatory Surgery Center in Fishkill.
"I do everything from general foot care — cutting toenails — to fixing fractures and reconstructive surgery, such as bad arches," Dr. Z explained. "My practice is pretty diverse. I prescribe exercise for therapy and for injury prevention, and I'm big on gait training. I send people to physical therapy so that it helps restore balance, and I do custom shoe inserts — orthotics — for alignment. When people get a hip replacement, there is a possibility that it will result in one leg being slightly longer than the other; over time that will affect one's gait and back alignment. It stresses the back. I come in and make the proper adjustment. I can work with other specialists and fine-tune that kind of problem."
Dr. Z particularly enjoys sports medicine and attending to the many runners and other athletes who are his patients, advising them on proper shoe gear to prevent injury. However, when injuries occur, he is also prepared as one of the panel doctors at both the Northern Dutchess and Vassar Hospital Wound Care centers.
"There is a lot of wound care out there now," explained Dr. Z, "and a lot of people don't even know that wound care centers exist. They don't have to live with pain. There are things we can do."
One of the doctor's strongest recommendations is for regular self-exams of the feet, along with choosing the correct shoes that can prevent injuries, breakdown of joints, and falls.
"Especially when it comes to diabetics, they should have foot care by a podiatrist quarterly," Dr. Z stressed. "They can lose feeling in their feet, so daily inspection is paramount for preventing infections or ulcerations. Prevention is key."
Dr. Z believes strongly in a simple approach to treatment, less invasive if at all possible.
"I try to watch as each patient first walks into my office and can usually determine what might be affecting their gait. Technology is always changing, and I always want to be able to offer my patients the newest therapies and procedures," he noted.
Rhinebeck Foot Care
91 Montgomery St.
845-876-8637; www.rhinebeckfootcare.com
Mon. & Tues. 8am –5pm; Thurs. 1pm –7pm
Same-day visits available by appointment
Facebook Comments