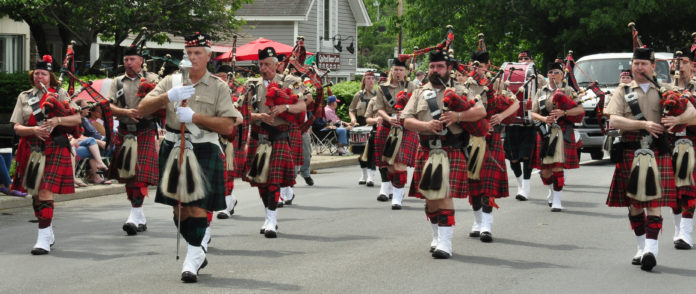 On March 17, the skyscrapers of New York City vibrated with the sound of pipes and drums as many gathered to celebrate the Celtic holiday of St. Patrick's Day – and marching proudly in this parade were 24 members of the Amerscot Highland Pipe Band of Staatsburg.
The bagpipe band had a fascinating beginning.
During World War II, Frank Hudak, a member of the U.S. Navy, served on board the USS LST-310 and was one of the first soldiers on the beach at Normandy, according to his daughter, Janet Whalen. During the war, he spent some time in Scotland where he first heard the sounds of the pipes and drums and, according to his daughter, noted in his diary "If I ever survive this war, I am going to learn to play that instrument."
Hudak returned home and married his high school sweetheart and was surprised to find that his father-in-law, Robert Hunter Moore, who had emigrated from Scotland in 1912, was a piper. By July 1, 1965, Hudak, who was of Polish heritage, formed the Amerscot Highland Pipe Band.
Janet Whalen, who has been the Pipe Major for the band since 1997, said her father always referred to pipes and drums as the "voice of the fingers."
In the early days, it was an all-male group, she recalled, and even though her father founded and led the band, she was not allowed to be a member. When the group voted by a very narrow margin to allow her to play, she added, her father told her "to be quiet and never to complain."
The band is now acknowledged for its diversity in age and gender and includes about 20 pipers and 10 drummers. Nick Parr, Whalen's grandson, said 50 percent of the drum line are women. Because Whalen is a resident of Staatsburg, she has made the hamlet the center of the band's activities.
And the band continues to be a family surrounded by many friends.
Whalen's grandchildren, Parr and Ashley Sperl, both 21, are next in line. While still in their high chairs, they were taught to play Hickory Dickory Dock with drum sticks. They made their first public appearance as the "Amertots" when they were four years old. They are both very much involved in playing and teaching in the band.
"It is a lot of fun because when people ask you who do you play with, who is the pipe major? They expect you to say some young player, and when you say it's your grandmother, they go 'Wow!'" Parr said.
Several members commented on how supportive band members are to each other. For example, fees paid to the band for appearances are divided equally amongst all members, regardless of position or time spent in the band, after a portion is invested back into the band itself.
The band is recognized among its peers for a fast-moving, spirited, and show-stopper piece it plays called "The Drummers' Call," which was written by Randy Sperl, Whalen's son who was a former Drum Sergeant and driving force for the band. He died in 2010.
Band members reference the lyrics to a popular bagpipe tune "When the Pipers Play" when talking about Sperl and and his grandfather, Hudak. "Their souls . . . they will never fade away. They'll live forever when the Amerscots play," the song says in part.
"It will be the younger generation that moves this band forward," Whalen added.
Presently, there are four high school students who are in training on the pipes: James Lapinel, James Kealty, and Geno Coppola and Aidan Alnwick.
The band has an active recruiting and training program. Practice sessions are conducted with military precision. The uniforms alone cost nearly $4,000. The instruments can range from $500 to $5,000 for pipes, another $500 at least for drums.
The next major holiday event for the Amerscots will be Memorial Day when they will march May 25 in Milan's parade and May 26 in Hyde Park's. They typically play for Staatsburg's Spirit Day in early June and march July 4 in the Saugerties parade, where they have appeared every year since 1966. They are available for private events as well.
For those interested, the band practices Thursday nights at the Staatsburg Firehouse from 6:30 to 8:30pm and when it gets warmer, many of these will take place out of doors. They also offer lessons for an hour before that. Whalen asked that those seeking lessons call her before going to the firehouse, in order to ensure practice times: (845) 889-8342 or pmamerscot@aol.com.
Facebook Comments