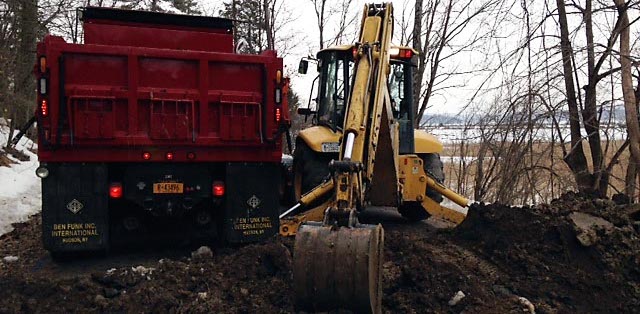 Rhinebeck Highway Superintendent Kathy Kinsella first got word March 11 about a dangerous sinkhole on Mill Road from a number of phone calls from residents.
"We got several calls within 20 minutes of each other" around 5pm, Kinsella said.
The road was immediately closed to traffic while the highway department investigated the problem and performed repairs on the collapsed portion, which was north of Cove Road and about a mile from the south Mill Road intersection with Route 9.
From above, the damaged area appeared to be only about 2 feet by 2 feet. However, upon further examination, the highway crew found that groundwater and runoff from melting snow and ice had washed out significant material under Mill Road, leaving a 4-foot square sinkhole.
"Water will always find a path," Kinsella noted.
Kinsella credits the cooperation of the weather– a predicted snowstorm failed to materialize– and the four-member highway team for repairing the road so quickly.
"We lucked out with the weather," Kinsella said, and gave "kudos to the crew," who worked to repair the road from 7am until 3pm on March 12.
The crew excavated and cleared out the damaged area underneath the road, then put in a new culvert pipe and "some good base material," Kinsella said.
The road will still need to be patched once the weather improves, but because of the highway crew's efforts, Kinsella cleared Mill Road to be reopened for traffic within 24 hours of the sinkhole discovery.
Kinsella emphasized how helpful residents are in informing her of road repairs and other issues requiring the attention of the highway department.
Facebook Comments