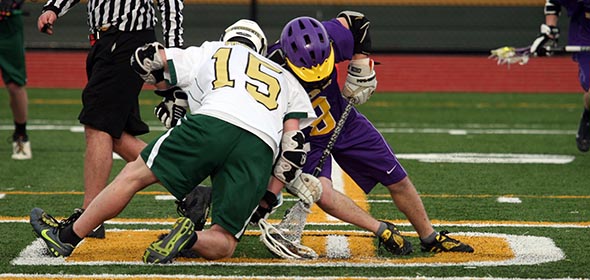 For FDR, the 2014 boys varsity lacrosse season is about rebuilding. For Rhinebeck, the season is about building. Their game on April 1, which FDR won 10-4, was a showcase for both teams, which are both in flux and looking to take a step up.
Last year was rough for the Presidents, headed by then-rookie head coach Dave Hushion. They went 4-10, collecting a 1-7 record in league. The Presidents haven't had a .500 season since 2007, when the team went 9-9. But under Hushion and in its first home game last week, Hyde Park looks to have a little more zip than in recent seasons.
The April 1 game was a typical early-season match, with players looking to shake off the post-winter rust. For almost the entire first quarter, neither the Hawks nor the Presidents could make anything happen. Dropped passes abounded and most shots were lobs or weak attempts that came out of the net at a bad angle. That was, until FDR's Nick Williams put the Presidents on the board with a layup goal with 1:08 left to go in the quarter.
Once the door was open, there was no slowing the FDR scoring flow in spite of Rhinebeck goalkeeper Andrew Spears' best efforts, which included some very solid saves in the second and third quarters. But when it rains, it pours, and Spears was left alone too often with the Presidents' attack. The killer for Rhinebeck came at 8:15 in the second quarter, when senior attackman and go-to guy Roan Gideon put a one-on-one shot into the net, only to have it called off by a timeout by Rhinebeck's new head coach Jim Bonanza.
Bonanza replaces Will Bussert, who coached Rhinebeck in its inaugural season in 2012-13. Under Bussert, the team finished 2-9 in Class C, playing alongside teams like Red Hook and Rondout Valley. Bonanza brings with him head coaching experience, having helmed lacrosse programs at both Highland and Saugerties.
"I have a great bunch of kids here," Bonanza told the Observer. "A lot of respect they have, working hard. We haven't been able to get on the field. We don't have turf. … We do have youngsters on the team — if you take the age groups, I really have half a JV team and half a varsity team. But they're learning and they're willing. They're coming along."
FDR went into the half up 4-0, but really broke things out in the third quarter, scoring five goals to go up 9-0 on a spate of fast break opportunities. Rhinebeck would have theirs, though, in the fourth quarter, when Gideon drained his first bucket at 7:42 from 15 feet on a very tight angle; he was followed by Sean Lehan at 7:28. Gideon scored another two before the game was out: one at 3:22 on a one-on-one opportunity against FDR goalie Matt Medina.
"I'm always concerned about playing back-to-back games. [Wallkill] was an absolute dogfight, and our boys played a full 48 minutes. But they obviously did things right today. We're 2-0 and we're going into [the game with Burke] with a lot of momentum," said FDR coach Dave Hushion after the game.
"We're a pretty young team. We lost some key players last year, but the one thing we're doing this year is playing as a team. If we can continue to play together, I really think anything is possible this year," he added.
With the win, FDR was 2-0 after beating Wallkill on March 31. They then played Burke April 3 and lost 8-7. FDR will host Saugerties at 4:30pm on April 10.
The FDR game served as Rhinebeck's season opener. Rhinebeck then lost to Highland, 10-2, on April 5. They host league opponent New Paltz on April 10 at 4:30pm.
Facebook Comments