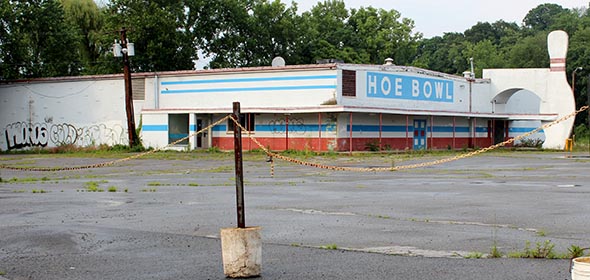 The site of the former Hoe Bowl in Hyde Park has significant oil contamination, which will now delay construction on a senior assisted living center there, according to the prospective new owner.
James Rogers, the prospective buyer, hired C.T. Male Associates engineering firm to do a Phase 1 investigation of the property and, he told the Observer, "the environmental company found 3 to 4 feet of oil-saturated ground."
"The environmental company also found oil in areas 100 yards remote from each other," Rogers added. The two spills have been reported to the state Department of Environmental Conservation, who told Rogers that they have to be "remediated immediately."
Wendy Rosenbach of the state DEC told the Observer last week that there's "not too much information at this point."
But she did say, "The prospective owner was conducting a phase 1 investigation of the property and the consultant doing the work found soil contamination and reported a spill [on March 14]."
Rogers told the Hyde Park planning board at their March 19 meeting about the leak, which he said has contaminated groundwater on the site. As of April 4, the DEC could not confirm the extent of the leak or contamination.
Rogers referred to himself as the owner of the site at the meeting, but later told the Observer that he had yet to close on the former bowling alley property at 394 Violet Avenue because of the discovery.
The problem was discovered, he said, during preliminary work on the new assisted living center.
"In Phase 1 [of the project], we found that there was a tank there [in the past] and the tank was not present, but the content was in the ground and exposed to the water, contaminating the water," Rogers told the board.
Rogers added that HOE Ventures, the current owner, told him they had removed the tank 30 years ago.
A second tank was also found in the area and was also leaking, Rogers added, but he later noted that that tank was never registered to the Hoe Bowl owner because it predated any requirements for registration at the time of installation.
Rogers said the owners told him two weeks ago that they would be "going through the process of finding the perimeters of the leak, and then it will all be cleaned up."
However, when the owner, Diane Hoe, was contacted by the Observer, her secretary said, "Nothing is verified at this point." She also said she could not comment on whether Hoe told Rogers that the company would have the spills cleared.
At the planning board meeting, attorney Victoria Polidoro suggested that Rogers submit copies of everything once the cleanup is completed.
Rogers had gone to the board because an approved site plan for the new senior facility expired on March 3. The board voted to grant him a 90-day extension, which will expire June 2. Polidoro said that if it was necessary, Rogers could request a second 90-day extension.
Facebook Comments