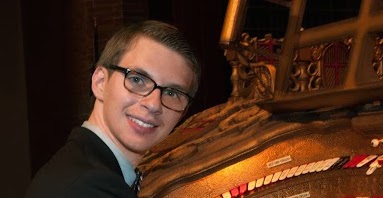 A local preservation non-profit is working hard to educate kids and teach them to use their imagination by playing the organ.
NYTOS (New York Theatre Organ Society) is one of over 65 chapters in the 3,500-member American Theatre Organ Society. The society's mission is "to preserve the organs and their theatres, and promote theatre organ performances," but the local chapter goes a step further.
"Good organists are a dying breed because nobody is teaching, and they do not know how to approach the young student. We think we found a formula to getting kids interested locally," John Vanderlee, vice chairman of NYTOS, told the Observer.
The Hyde Park-based chapter, which is currently housed in the former Hyde Park Elementary School building, focuses on outreach to young people.
"My focus is not the preservation; other people are busy in that. But what I found missing — what we found to be a hole — is the ability to attract younger people, to educate them," Vanderlee added.
Vanderlee approaches the challenge of teaching a new generation about organ in two ways: supplying quality instruments and providing training. He is always looking for opportunities to present the organ to young performers. For example, the society arranged for the winner of the 2013 National American Theatre Organ Society Competition, Justin Lavoie, 19, from Michigan, to play the organ at the FDR high school production of "South Pacific" before the show, during intermission and after the show.
"Several years ago, we completed installing a $100,000 organ in the FDR High School auditorium, for which we raised all the funds," Vanderlee said. Additionally, the organization has arranged for organ installations in the Bardavon Opera House and Haviland Middle School – in all cases providing the funding. These instruments are used for entertaining and for training young students.
"All these activities cost money, and force us to raise about $10,000 a year for our Hyde Park activities alone," Vanderlee said. "We raise money in a variety of ways: outright donations, putting on shows like our latest holiday show, but mostly by reselling donated organ-related items–pipe organs, as well as electronic organs or pieces…" Vanderlee also acknowledged the individuals who provide personal funding to support the society and its projects.
Vanderlee tells the story of a concert last year at which Michael Barone, founder of Pipedreams (a special membership organization dedicated to traditional pipe organs) was present. Barone expressed his amazement at the performance of the theatre organist who performed because, he said, "There was no music on his music stand – it was all interpretation!"
"The individual knows the tune and orchestrates," with theatre organs, according to Vanderlee. "This is why we have an edge in attracting kids because we concentrate more on the lighter side. Kids can use their own imagination."
Through the society's efforts, John Barrata now teaches organ to six students at FDR High School and four at Haviland Middle School with the costs covered by the society. The lessons are not part of the curriculum and are squeezed into lunch breaks, study halls and free periods or after school.
Vanderlee and Barrata also take their show on the road to the entire region their chapter serves, including NYC, Long Island and parts of upstate New York. Vanderlee said that initially, students are reluctant to attend an organ class. But eventually, he and Barrata win them over. "In the end, they are applauding and cheering," he added.
As for his own role, he said, "I am never bored. I am doing something people said could not be done. My goal is to demystify the organ (for everyone); and if you do it right, you can reach the kids."
Facebook Comments