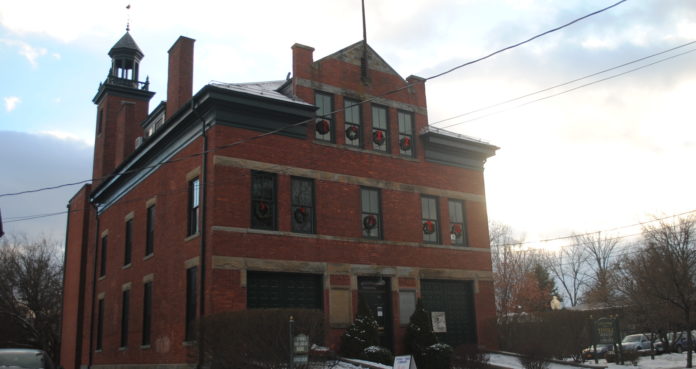 After a final budget workshop filled with tough choices, Tivoli's village board managed to slash its tentative budget for 2014-15 and cut a proposed 6.19 percent tax increase to 2.69 percent.
A budget hearing on the new numbers was held in the village courtroom April 2 with about 30 residents in attendance.
Mayor Bryan Cranna opened the meeting by explaining how the preliminary budget was released to the public on March 9 with the 6.19 percent tax levy. But at a budget workshop March 31, the board spent the evening going over the original budget line by line, trimming as they went.
The buildings line was cut by $3,600, police services were brought down from $41,000 to $35,000, the rescue squad budget was trimmed by $1,500 and the zoning line dropped by 42 percent from $23,1000 to $11,700.
The new budget is now $760,691, down from $775,726 as first proposed. The decrease of $15,035 directly affects the property tax bite, which has dropped from $457,262 to $442,227, making this year's proposed tax increase close to last year's 2.6 percent.
The revised budget was put on the village website April 1, and the final version is expected to be adopted at the board's April 9 meeting, which starts at 6pm.
Resident Nancy Houk questioned what services residents receive in Tivoli.
"Tivoli doesn't have many services, frankly," Houk said. "I'd like to know what services that we, as residents, do receive that we pay taxes for."
Cranna listed the Fire Department and the Rescue Squad as important services. He also said the village completely refurbished the park, reinstated summer programs for kids, replaced the streetlights and built new sidewalks. And he noted the water and sewer services provided in the village.
Deputy Mayor Joel Griffith added the police to Cranna's list of services, which in Tivoli consist of coverage by a mix of Red Hook Police, county Sheriff's Office and State Police. "One of the biggest costs is the police patrols," he said. "As you know, we don't have our own police force and a lot of our tax dollars go to that."
Houk also questioned sharing a code enforcement officer with Red Hook at the same cost, $15,000, that was paid when Tivoli had its own zoning officer several years ago. She added that Tivoli's officer was at least available while the Red Hook one is often hard to reach.
"When we decided to share services with Red Hook, we thought it would save us money," she said.
Cranna said the village was in discussion with the town on trying to have their code enforcement officer be more responsive. At previous meetings in February and March, Trustees Sue Ezrati and Griffith had reported on these discussions and expressed similar frustration.
Resident Pete Mauney agreed services have gone down in the past and said he doesn't mind paying taxes and would even pay more but not for less services. "There's a point where you can't cut any more and always having cutting, cutting as your dogma, can lead to paying a different kind of price rather than just a financial one," he said.
Griffith ended the meeting by saying, "It's wonderful to have live bodies in the room … Come throughout the year and pay attention to what we're doing, because it is a lot of work and we need help, too."
Facebook Comments