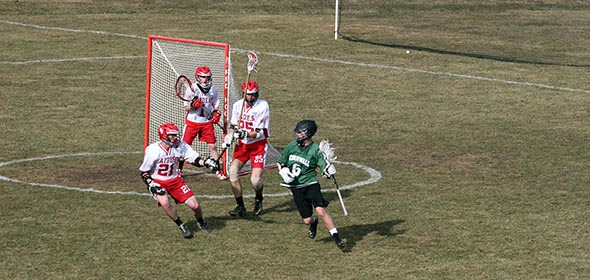 The Red Hook boys varsity lacrosse team is something of a powerhouse.
Since becoming a full-fledged varsity program in 2007, the team has captured the Section 9, Class C championship in every season from 2008 on. But the competition is picking up with Rondout Valley — pretenders to the Class C throne for the past two years – looking to finally give the Raiders their just desserts and other class opponents trying to get their licks in, too.
"There are established rivalries within our division, both old and new. Rondout Valley has built a quality program in a short period of time, and we can't ignore teams like Millbrook and O'Neill as well," Red Hook head coach Richard Saulino told the Observer.
Red has become used to playing with a target on their collective backs. Saulino, since the program's inception, has been able to keep the program consistently competitive, even with massive annual turnover. And once again this year, the Raider coach has some serious work cut out for him: the 2013 graduating class took starting defensemen Dan Gall and Mike Gemmell, starting goalkeeper Austin Loeffel, and offensive stud Tong Guerra from the team, as well as Neil Bostian, Mike Hahn-Rauch, Ian Taylor, Jeremy Taylor, Armando Spagnoli, Devin Fraleigh, and Mike Orcutt.
"Leadership and experience will be the greatest affect of their loss," said Saulino. "Despite the fact that we do have a number of returning players, we will be a young team this season. We will have to build on our successes and learn from our setbacks."
The Raiders retain only one defensive starter in Teddy Ross, who will be coupled with Dave Akst and a yet-unknown player to work as the defense's first line. The offensive side of things is less shaky: Nolan Dalton, Dennis Hare, John Alessi, and Brandon Voll will be highlighting a very physical midfield, and Nick Michitsch, Skylar Fustos, Drew Zarrella, and Logan Cook will be fronting the attack.
The smart money is on never counting Red Hook out and not counting the start of the season as a litmus test. Saulino has a habit of frontloading tough games to get the team in shape, and this year will be no different: in the month of April, Red Hook will face off with non-division opponents including Goshen, Kingston, and Monroe-Woodbury.
Fans need to look no further than 2013 for proof that seems to always come around at the end of the season. After losing five of their first six, including a tight one to Rondout Valley, the Raiders bested division foes in the final stretch and overcame Rondout, 7-5, in the sectional championship.
Red Hook, however, has yet to win a regional postseason game. They came closest in 2009, when they lost to Schuylerville 17-9.
Baby steps.
Facebook Comments