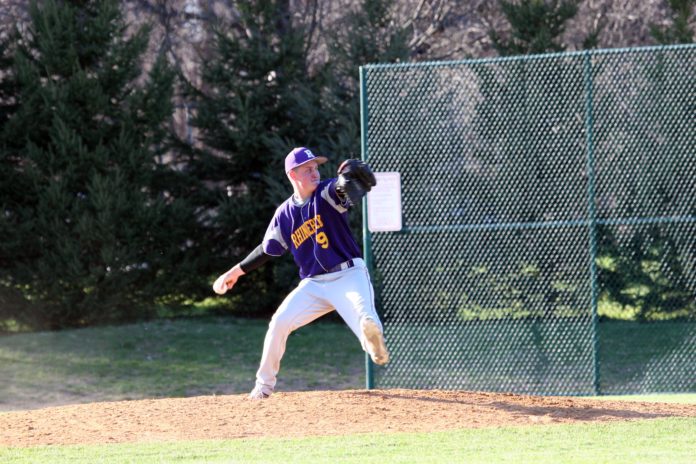 There are nine players allowed to play on defense in a baseball game. There are 10 players, as of April 3, on the entire Rhinebeck varsity baseball roster and only 10 players on the junior varsity roster, when 16-18 is the norm for either.
Simply put, Rhinebeck is going to have to find a way to keep a team with such an alarmingly small roll call competitive, and hope that no one gets injured between now and the end of May. A pair of ill-timed twisted angles could put the entire Rhinebeck baseball ecosystem in the tightest of spots because a varsity injury or two would mean bringing up talent from the equally lean junior varsity and thereby leaving the juniors with fewer players than is legal.
"Our biggest problem is our numbers," head coach Bill Carney told the Observer. "We don't want to lose the JV program, but right now we're in a real squeeze with all the sports Rhinebeck has in the spring."
Carney's got a near-perfect storm on his hands this year. The team won the Section 9, Class C championship last year, but then six players, including five starters and the 10th man, graduated. Will Burns, the New York State Sportswriters Association Class C first team third baseman of 2013, Josh Hanaburgh, the second-day pitcher and an All-County player, and All-County honorable mention leftfielder Sam Tigges were among them.
"That's a big loss for us. That was a sectional championship team," Carney. "But we still have some outstanding players this year."
Among them are Eric Rodriguez and Nick Hoynes, who were both All-County last season.
"That's a tremendous double play combination right there," said Carney of Rodriguez and Hoynes. Also returning is Kory Hutchins, Rhinebeck's beastly pitcher who was the NYSSWA Class C third team pitcher of 2013.
"We've got a solid starting nine. We just don't have the depth. We've got some players down on JV who are looking really good, who will eventually come up and strengthen us at the end of the year, but we're going to have to get through in the beginning," said Carney.
This year, also, Rhinebeck will be making the jump from Class C to Class B, which is currently dominated by a Spackenkill team that has won every divisional championship since 2011.
"C to B is going to be very difficult. Like I said, Kory Hutchins was one of the best pitchers in the MHAL (Mid-Hudson Athletic League) last year, and he's even better this year. He's done a lot of work over the summer. But we can't throw him every day, though," said Carney. "We're looking to win our division. Pine Plains played us tough last year, and Coleman was always difficult for a small school. But Spackenkill is just an outstanding team, and I'm not even talking about Highland and Onteora and the other teams at the B level that are going to be really difficult."
Carney said that Rhinebeck was looking forward to defending its title at the Phil Amelio tournament at Pine Plains on April 26, and especially looking forward to facing off with Red Hook in the tournament.
Facebook Comments