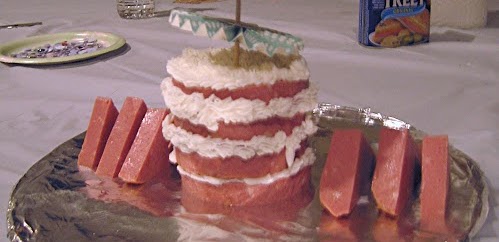 The Red Hook Firehouse was the setting March 27 for "CANNED," a challenge for three local chefs to create tasty appetizers and entrees using only ingredients likely to be found at one of the seven local food pantries.
The "cook-off" was a free evening benefit for the Red Hook United Methodist Church food pantry and was organized by the Red Hook Public Library, the Red Hook Chamber of Commerce, and Bard College as part of the six-week literary project The Big Read.
Kimberly McGrath Gomez, from the Chamber of Commerce, explained, "We thought "CANNED" would be a fun challenge to come up with a combination of ingredients that are going to taste not like canned food."
The invited chefs were Arleen Harkins, from the Historic Village Diner; Carl Beach, from Great Food & Company Caterers; and Daniel Fisher, a chef at Bard College. The ingredients they were given ranged from collard greens and coconut milk to pasta and peanuts.
The adventurous judges sampling the recipes were Red Hook Village Mayor — and amateur gourmet — Ed Blundell; Jessica Bard, who teaches cooking classes at Warren Cutlery in Rhinebeck; and Kate Cavotti, a professor of baking and pastry arts at the Culinary Institute of America.
Each took the evaluation of the appetizers very seriously, since it was an elimination round in the competition.
Arleen Harkins graciously accepted the judges' decision that she would not proceed to the entrée round. Harkins noted, "This is a good cause to raise awareness and help other people who are less fortunate. And it's fun!"
The remaining chefs, Fisher and Beach, probed another basket of provided ingredients for inspiration as Master of Ceremonies Ted Saad, Red Hook Library's trivia contest host who formerly worked at the Food Network, directed the audience of 35 to another creative aspect of the evening: Spam Sculpture.
Ironically, the price of the famed mystery meat exceeded the event's budget, so Armour Treet was the culinary clay at hand. Of the four entrants in this category, the winner (via audience "clap-o-meter") was Bryce Thorne, a seventh grade student who created a "SPAM-getthi" dinner plate tableau. For his efforts, Bryce won a ham.
The judges then evaluated – and really enjoyed – the two beautifully crafted entrees. Daniel Fisher's creation of chicken and dumplings, using coconut milk, curry powder, apple/carrot juice puree, seaweed powder, collard greens, and boiled peanuts, won the coveted prize of a bottle of wine, $10 in cash… and a block of Velveeta cheese.
Betty A'Brial and Janice Williams represented the Methodist Church's food pantry at the event. They accepted two large containers of canned food and over $90 donated by audience members.
A'Brial said, "We are very grateful that this event has raised both funds and the awareness that we are around every Sunday afternoon to be of some help to the community."
Facebook Comments