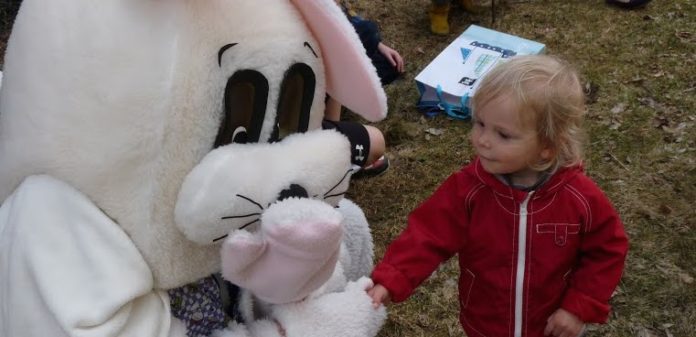 It was a breezy, partially sunny afternoon at the Tivoli Village Hall on April 5 when the annual village Easter egg hunt was scheduled to take place. The Easter Bunny greeted families at the front door, and inside there was fun stuff for kids to do, like face painting and egg decorating.
Tivoli board member Robin Bruno and Tivoli Library program director Veronica Stork organized the festivities so that the indoor activities would run from 1pm to 2pm, with the Easter Egg hunt to begin after that. The hunt was originally supposed to take place in Tivoli Park, but it was too muddy there, so the eggs were hidden in and around the Village Hall grounds.
Outside, as the magic hour approached, some of the kids played a game of "duck, duck goose" with the Easter Bunny. When Bruno stepped out to thank everyone for their donations and their participation, some of the older kids decided to start the egg hunt ahead of time and suddenly all the eggs were gone, spoiling it for everyone else.
Bruno said afterwards, "After working so hard to put on an event like this, having it end like this is very disappointing."
Facebook Comments