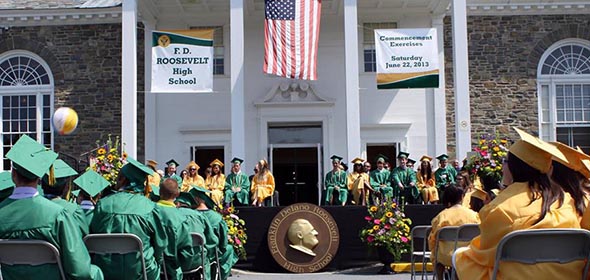 Two seats on the Hyde Park school board will be available this summer with the expiration of Doug Hieter's and Glenn Watson's term of office.
Those residents interested in running for a seat on the board can pick up a packet from Central School District Clerk Deborah Brosen at the Administration Office on 11 Boice Road.
Both seats are three-year terms that begin July 1, 2014 and end July 30, 2017.
Candidates must obtain 47 signatures from qualified voters on the nominating petition, which is included in the packet. Petitions must be returned to the District Clerk no later than 5pm, Monday, April 21.
The election will be held on Tuesday, May 20, , in conjunction with the 2014-15 school budget vote, from 6am to 9pm at Haviland Middle School.
For questions or further information, contact board clerk Deborah Brosen at 845-229-4005 or deborahbrosen@hpcsd.org.
Facebook Comments