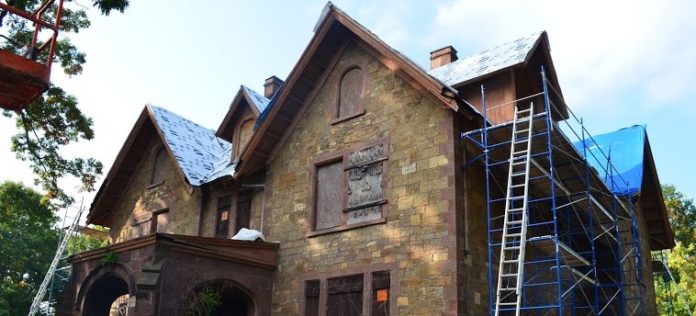 The 1850s Hoyt House at Norrie State Park in Staatsburg, also known as "The Point," is finally getting renovated.
Through the work of the Calvert Vaux Preservation Alliance, the friends' group for the house, and with state and federal grant monies, Phase I of the restoration work on the main house is well underway, according to an Alliance news release.
Major exterior masonry repairs have been completed while roofing, gutters and chimneys are now being restored. The project is being supervised by the New York State Office of Parks, which bought the historic house in 1962. The work is expected to be completed by mid-summer.
Alan Strauber, president of Calvert Vaux Preservation Alliance, noted in the news release, "This is an excellent start to the stabilization and restoration of the entire main house, dependent buildings and grounds for adaptive reuse as a vibrant center of activity in the heart of the Hudson River National Historic Landmark District."
The organization plans to adapt the site for use as a center for programs in the arts and humanities and for the practice of sustainable agriculture.
The Hoyt House was designed by prominent landscape designer and architect Calvert Vaux in 1855 for Lydig Munson Hoyt, heir of a wealthy New York City merchant and his wife, Blanche Livingston Hoyt. The state assumed ownership in 1962, intending to replace the structure with a public swimming pool. As a result of local outcry to save the house, the demolition plans were abandoned.
Facebook Comments