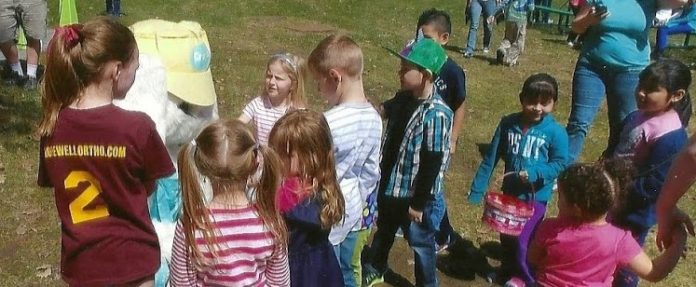 It was a sunny Saturday, and the long tradition of watching children prepare for the Hyde Park Recreation Department's annual Easter egg hunt brought a big smile to the face of Recreation Leader Diane Cullen on April 12.
"We put together enough plastic eggs for 400 kids," said Cullen, "and even though it is opening day for Little League, it looks like we will have a huge turnout once again, as we have had for the 17 years that I have been involved with this event."
As the children lined up with their parents, it was obvious that Cullen was right. Some 4,000 plastic eggs were filled with candy and other treats, including prizes provided by the Roosevelt Cinemas and Stewart's. The eggs were spread in fenced field areas for two groups of children 5 and under, and in the wooded areas of Hackett Hill Park for older kids 6 to 10. Within 10 minutes, the younger kids had cleared their sections, collecting the maximum 13 eggs each for their baskets.
Preparing all the eggs is no easy task and Cullen praised her assistants from the Recreation Committee and Boy Scout Troop 37 for their efforts in helping out. "The Boy Scouts stuffed the eggs with candy and prize slips and we really appreciate the help they give us," she said.
Right from the start, the joy, anticipation and eagerness to find a prize in an egg was clear on the faces of all of the children. "My daughter, Leah, age 2, won a stuffed bunny," said Laura Leveque, "and she was just delighted." Everyone actually went home with candy, or an apple donated by John Flowers.
Facebook Comments