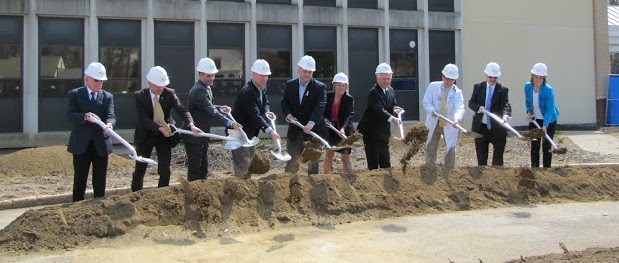 by Carisa Weinberg
More than 100 people crowded into the lobby of Northern Dutchess Hospital April 11 for a ceremonial groundbreaking on the hospital's new wing.
Construction work for the three-story, $47 million medical pavilion got underway earlier in the month.
The festivities showed few traces of the year-long dispute over the project between the Rhinebeck Village board and residents, and Health Quest, which owns and operates the hospital.
Denise George, the hospital's president, thanked the members of the village planning and zoning board, as well as former village mayor Jim Reardon, who was in the audience. Current mayor Heath Tortarella was also present and participated in the ceremony.
U.S. Representative Chris Gibson in turn thanked Health Quest, saying, "You work so well with the local leaders. I see success here."
State Senator Terry Gipson also had praise for Health Quest: "We're all working as hard as we can to try to build stronger and healthier communities," he said, "and you simply cannot do that without a strong and vibrant hospital."
Other speakers at the event included State Assemblyman Kevin Cahill and County Executive Marc Molinaro.
After the conclusion of remarks, local politicians and Health Quest representatives donned hard hats and tossed a few ceremonial shovels of dirt near the former entrance to the hospital.
While celebrating the future of the facility, the groundbreaking ceremony was something of an obstacle to patients and visitors trying to use the hospital in the present.
One elderly man with a cane stumbled on the sidewalk as he tried to weave his way through the crowd. Luckily, construction manager David Keith was nearby to help. He offered his arm and guided the man safely away, as others made their way to the ceremony.
The 87,000 square foot facility, with six operating rooms, 40 private patient rooms and doctors' offices, is scheduled to open in the fall of 2015.
Facebook Comments