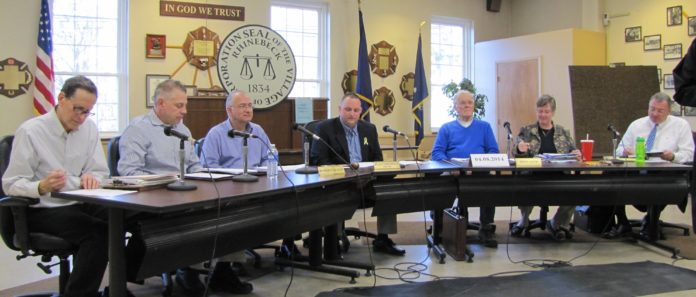 by Carisa Weinberg
The Village of Rhinebeck Board of Trustees is operating at full capacity again, following an April 8 reorganization meeting at which Heath Tortarella was re-appointed interim mayor and Scott Cruikshank was named a trustee.
Tortarella, who is not affiliated with a party, will serve out the rest of former Mayor Jim Reardon's term, which runs through March 2015. Tortarella, a village trustee, had been appointed interim mayor in February after Reardon resigned his position in January to take a job with the National Rifle Association.
While Tortarella was not elected to his current position, he did face voters in the March village election because he was on the ballot running for a two-year term as trustee. He not only won the seat, but he won the highest number of votes of all the candidates running.
Tortarella's first move following his re-appointment was to name Scott Cruikshank, a Republican, to that now-empty trustee seat. Cruikshank, a former village trustee, was sworn in immediately. He will serve until next March and will then have to run in the general village election to serve the final year of Tortarella's term.
Gary Kenton, a Democrat who won a two year-term as trustee in March, was also sworn in. Heinz Sauer, a Democrat, and Howard Traudt, a member of the Independence party, continue as trustees. They are both serving the second year of their two-year terms.
There was no public debate by the board over the appointment of either Tortarella or Cruikshank.
Tortarella told the Observer that Cruikshank, who volunteered to serve on the board, was an easy choice. "He knows what's going on in the village," Tortarella said.
Cruikshank, who also has served on the village planning board, is a project executive for Kirchhoff-Consigli Construction Management, based in Pleasant Valley, and is on the board of Astor Services for Children and Families in Rhinebeck.
Other new appointments for 2014-15 include Pat Coon as Village Clerk, and Christina Denu as Deputy Clerk. Denise Beneway will serve as Treasurer.
Coon told the Observer that the new mayor and trustees are a pleasure to work with. "The new board has great experience. They are dedicated to the village," she said.
The board showed broad consensus during the meeting. The only dissenting vote came from Heinz Sauer on a request by Mr. Ding-A-Ling, an ice cream vendor, for a permit to operate an ice cream truck in the village this summer. Sauer expressed concern over the safety of children who might be drawn into traffic in pursuit of the truck.
The board voted 4 to 1 in favor of the permit.
This story was updated to correct an error in which Scott Cruikshank was identified as a registered Democrat. He is a Republican.
Facebook Comments