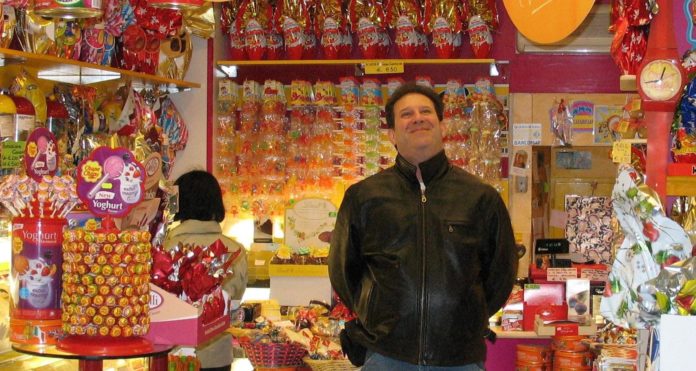 By Arlene Wege and Sarah Imboden
It seemed the whole world wanted to bid a loving farewell on April 9 to Ira Gutner, owner of Samuel's of Rhinebeck, a well-known coffee and sweets shop.
For over six hours, hundreds of friends made their way through the Dapson Chestney Funeral Home in Rhinebeck to weep and laugh and offer condolences to the family of a man as beloved in the community as his business was popular. Gutner died suddenly on April 4; he was 57 years old.
Since opening on April 30, 1994, Samuel's at 42 East Market Street always reflected the warm personality of its owner. Gutner filled the tiny store not just with his coffee and huge assortment of extravagant chocolates and other confections, but also with innumerable fun items (toys, antiques, wax lips, a gumball machine, cartoons) that appealed to children and reflected the many facets of his colorful personality and his interests.
Born in New York City, he grew up in Westchester County and had a successful career in the garment industry, including work at Fabricland Inc., a family business started by his father, Lawrence Gutner, and his uncle Samuel. Recalling how his uncle inspired him and taught him the art of listening, Gutner said, "He is the karmic element that has allowed Samuel's to persevere in difficult times."
Gutner first visited Rhinebeck in 1993 on Valentine's Day weekend, and he fell in love with the area. So when friends suggested he open his own shop and pair it with coffee, which was just becoming trendy at the time, he rented a space in the center of town.
"It's about quality of life: living here is by far and away the greatest thing I've ever done," Gutner told the Observer in a January interview about the shop's approaching 20th anniversary.
Throughout his years in business, Gutner remained focused on providing simple joys to customers. "This is a very child-friendly store….The greatest experience I still have in this store is when a youngster who I've known the parents before they even got married had children and they come in with their child and the child gets their first lollipop. That is still one of the greatest thrills I have in the store, to witness that," he said.
He added that the last seven years of economic downturn were some of the hardest in his 20-year run. "It's been the most enjoyable thing I've ever done, and it's been the most difficult thing I've ever done. I've been very humbled," he said.
Samuel's was known for supporting charitable endeavors in the community, which Gutner's husband, John Schwartz described this way: "For 20 years, Ira donated time, money, and products to many causes that were dear to his heart and especially causes that supported children and the elderly…[T]hrough Samuel's, Ira generously supported fundraising efforts for the Rhinebeck Science Foundation, Northern Dutchess Hospital, Starr Library, Sinterklaas, Astor Home for Kids, Autism Awareness, and many others."
Gutner also made sure that Samuel's became known as a place where young people were welcome to hang out — after all the shop offers an estimated 200 varieties of candies on its shelves — and he made sure that many young people got their first jobs behind his counter.
John Traver has worked at Samuel's for 13 years since he was hired at age 15 and has been the shop manager for several years.
"Ira was a really great mentor for me," he told the Observer last week. "I learned a lot from him that I could not have learned from anyone else because he was a really unique individual. He was never afraid to give anybody a hug or let them know he liked them. Personally, I'm in shock. It is great that so many people have been coming in to give me hugs and express their condolences and concern and offer their help, and the community has really shown a huge amount of support."
Traver's mother-in-law, Pat Coon, who happens to be Rhinebeck Village Clerk, recalled that her longtime friendship with Gutner focused on one special thing they had in common.
"He was a phenomenal knitter. I would go to Samuel's and teach him how, and he just took to it. He became a member of our knitting group, Shepherd's Knitters – the only man in a group of about 20. He was just the light of our group. Ira was such an inspiration to people and a mentor to kids. I'm so grateful that I got to know him as well as I did. He had circles of people that got bigger and bigger and bigger," she said.
Those friends, and his family, have decided to continue Gutner's legacy through a fundraiser on gofundme.com.
"The funds will be used to maintain Ira's legacy in Rhinebeck, ensure Samuel's remains open moving forward, and possibly support a memorial that will honor his generous loving spirit," Schwartz said.
Both Schwartz and Traver said keeping Samuel's open is a must. "We all feel that's important to us personally, and we hope it is to the community and to the young people who work here and the local bakers and the people we support," Traver said.
A special reception is planned for Wed., April 30 from 5-7pm to mark the shop's 20th anniversary. As Gutner had wanted, the occasion will be marked with chocolate and Prosecco to mirror the shop's opening celebration.
At the memorial service, Schwartz encouraged those in attendance to carry on their friend's legacy in some personal way: "Please find some way to make the world a better place, because that is what Ira did every single day…He has joined his Uncle Samuel, and they are probably drinking coffee together, eating some penny candy, and looking over the rest of us with a contented smile on their faces."
Gutner is also survived by his parents, Lawrence and Mildred Gutner, a sister and brother, and nieces and nephews.
Facebook Comments