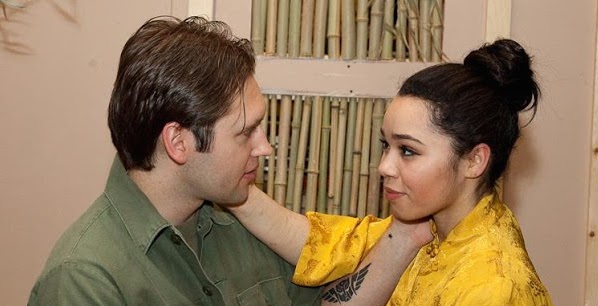 Those familiar with "Miss Saigon" may well wonder about one key challenge for the musical when it opens at the Center for Performing Arts in Rhinebeck next month.
Will the audience get to see an actual helicopter on the Rhinebeck stage?
Johnny Dell, whose Johnny Dell Productions company is presenting the tragic tale, knows how to entice an audience.
"Sorry, that's classified," was all he would say.
Based on Puccini's 1904 opera, "Madama Butterfly," the plot of the musical revolves around an American Vietnam War veteran, Chris, who returns to Saigon to discover that his former Vietnamese lover, Kim, is still alive — and raising his son.
Director Anna Marie Paolercio chose "Miss Saigon" because "I like the dark musicals," she told the Observer.
"This play is gorgeous, stunning, challenging … scary!" she added. "I've wanted to direct this show for many years."
She moved to the Hudson Valley from Indiana in 1980 and soon got involved with the County Players theater company in Wappingers Falls, where she has directed many plays.
Anna Marie, Johnny, and choreographer Michele Ribble were all pleased with the pool of talent that auditioned.
"I find that this area has all the talent you could possibly need," Johnny said. "There is so much untapped potential around here. When you have a chance to work with it, it's the greatest feeling in the world. It's crunch time now, but we're on target. The angst and the energies get higher, and it's very hectic. The Center never sleeps."
Actor Jarek Zabczynski, who plays Chris, said his understanding of his character became a lot clearer when two Vietnam veterans came to a rehearsal and spoke to the cast.
"Hearing the first-hand accounts of the war from the vets … was very inspiring and moving, to say the least," he said." As an actor, it makes a role like this feel all that more real when you hear from people who have actually experienced some of what you are trying to portray. It reminds you that this isn't all fantasy, some of these things really happened."
Jasmin Sue Rogers, who plays Kim, said, "It is an absolute honor to be playing this role. It's such a beautiful, heartbreaking story, and I find that this is the most challenging role I've ever had, not only vocally, but emotionally. It's not an easy task to find a Vietnam War veteran to talk about the war, so I am very grateful that the two of them did. I am extremely excited — and nervous — for everyone to see the show. It's been a long, tough rehearsal process, but it's going to be an amazing show!"
Liz Gerbi plays the role of Ellen, Chris' wife, in the show. She noted, "I have dealt with post-traumatic stress disorder in many areas of my life and work, and in depicting Chris's desperate efforts to suppress violent memories, the authors remind the audience of the ramifications of the war on all of American society. This is the stuff of which great theatrical tragedy is made, and as in any complicated love story, solutions never come without sacrifice on someone's part."
Anna Marie added, "Because 'Miss Saigon' does have its challenges, it's not done often. This is a great opportunity for the community to have a chance to see a show that is not normally produced."
For his part, Johnny Dell explained how he became involved with the Center: "About five years ago, I played Max Bialystock in 'The Producers,' and Artistic and Managing Director Lou Trapani asked if I would be interested in producing shows with him. We co-produced 'The Odd Couple' and 10 more shows since then."
'Miss Saigon'
May 2 through May 25
Fridays & Saturdays, 8pm; Sundays, 3pm
The Center for Performing Arts, 661 Route 308, Rhinebeck
Box Office: (845) 876-3080 www.centerforperformingarts.org
Facebook Comments